Experts: Reality shows featuring fighting females harmful to the young girls who watch them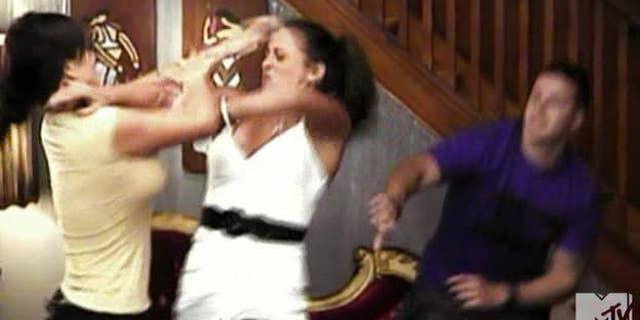 LOS ANGELES – "American Idol" is just starting auditions, but we've already seen clips of a nasty girl-on-girl feud between judges Nicki Minaj and Mariah Carey.
And when it comes to reality television, girls being mean to girls is basically the norm. Snooki and Angelina and Sammi and Jenni get their claws out regularly on "Jersey Shore." Brandi Glanville and Kyle Richards's catfight continuously on "Real Housewives of Beverly Hills." And over on Oxygen's "Bad Girls Club," well, as you can tell from its title, the fighting never stops.
But while most of the girls getting down and dirty on TV are, at least age-wise, adults, many of these shows' viewers are young girls. And experts say that's a bad combination.
Let's take a look at some numbers.
MTV's "Jersey Shore" Season 5 averaged 5.8 million viewers, including one million ages 12-17.
Bravo's "Real Housewives of Beverly Hills" Season 2 averaged 2.2 million people, with about a quarter of the viewers under 18.
E!'s "Keeping Up With the Kardashians" averages around 209,000 people in the 12-17 demographic per episode.
CW's "America's Next Top Model" attracted one million minors out of its 1.2 million average viewers last season.
VH1's "Basketball Wives" Season 4 averaged 166,000 teen viewers per episode. 
"TV is a powerful influence on all of us, but particularly young girls who are looking for role models," Los Angeles-based therapist Dr. Nancy Irwin told FOX411's Pop Tarts column. "These shows glamorize the backbiting, gossiping, criticizing and competing with each other through beautiful hair, makeup and clothes."
"The behavior that is highlighted on many of these reality shows includes casual 'hooking up,' which alone is sending a bad message to young girls because it is encouraging them to be sexual from a young age. Of course they rarely ever mention the negative effects of potentially getting an STD, or falling pregnant," said Nicole Weider, founder of Project Inspired, a website designed to inspire and offer life advise to Christian girls. "Also drinking heavily is a major theme on many shows today, and once again the message is that it is fun and cool to do so. This is harmful because young viewers then think you need to get drunk to have a good time."
Weider said she scores of emails from girls telling her that their role model is Kim Kardashian, and asking why she never writes about them on her popular teen site.
"She may be a good person, but her whole mantra is very narcissistic in my opinion, because it is always about her," Weider said. "The countless photos she always posts of herself (on Twitter) feeds the vanity, and other girls now emulate that and post provocative pictures of themselves on their cell phone too, hoping to get attention like she does."
A study by the Girl Scouts Research Institute last year found significant differences between girls who consume reality television on a regular basis and those who did not. The research indicated that the regular viewers believed that "being mean earns you more respect than being nice" and are "more focused on the value of physical appearance."
In 2010, the American Association of Pediatrics remarked that reality TV posed serious problems, with shows like "The Bachelor" and "Temptation Island" creating "unrealistic scenarios in which partnering has no health consequences, or consequences at all" and thus inadvertently promoting that unsafe sex is okay.
So what do experts consider to be the worst offenders in the reality genre?
"Most of the reality programs on MTV, E! and Bravo are particularly bad in this regard," said Melissa Henson of the Parents Television Council (PTC). "Reality shows tend to rely on a certain set of pre-determined roles. The troublemaker, the player, the mean girl, etc. And then in the editing room they exaggerate those characteristics even further to heighten the conflict and drama. (Such shows) set up expectations that this is normal behavior, and so it legitimizes relational aggression in the real world. And with all the behavior we have seen in recent years with bullying in schools, is this behavior we really want to encourage?"
According to experts, the solution is simple.
"As long as we continue to watch these shows, Hollywood will continue to produce them. The best thing we can do then, is not watch, and instead support reality programs that don't allow wallow in pettiness or highlight 'mean girl' behavior," Henson advocated. "Only the bad shows tend to get the publicity. I have heard good things about 'Tia & Tamera,' 'Chef Roble & Co.' and then there is 'Cake Boss' which is popular with family audiences. There are good shows out there, and they need support if we want more of them."
Kim Kardashian, as well as the networks mentioned in this article, did not respond to a request for comment.