Exclusive: Despite Public Fascination With Her Life, Angelina Jolie Thinks She Is 'Boring'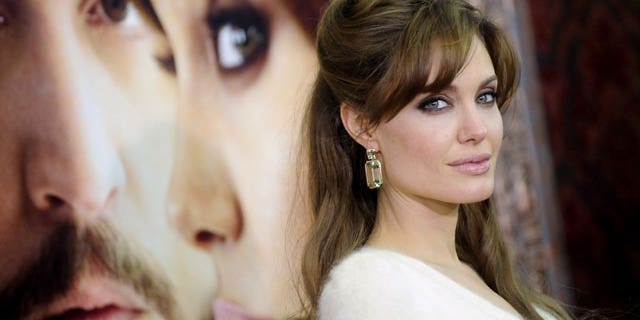 Angelina Jolie is undoubtedly one of the world's biggest movie stars whose every action seems to be the subject of public fascination.
Whether it's her dark confessions about cutting herself, accessorizing her look with a vial of blood around her neck, jetting across the world with longtime partner Brad Pitt and their flourishing multi-cultural family in tow, or her dedication to philanthropic causes, fans just can't seem to get enough.
But despite the world's fascination with this thick-lipped beauty, she considers herself to be anything but stylish or spellbinding.
"I wear a lot of black. I don't have a lot of different shoes or a lot of wardrobe. I'm pretty basic," Jolie told Pop Tarts while promoting her upcoming drama thriller "The Tourist." "When I'm not all done up for some kind of – I'm boring. I'm very utilitarian. I like things that function. I like to travel a lot, I like to be busy, I have a lot of kids so I don't have a lot of extra time for other frills."
Speaking of travel however, it turns out Jolie has a pilot's license and prefers to transport herself from place-to-place.
"I do fly – a small, single prop plane," she revealed. "I always wanted to go across the Sahara, but it apparently takes 28 days so I should have done it before I had the children, [because now] I'm going to have to wait for them to grow up a bit. And there are certain places I would like to be able to fly solo across, again like the Sahara, but other places."
But despite the criticism the 35-year-old has garnered in recent years for trooping her six kids across the world without giving them the chance to have stability or structure in their lives, it seems Jolie has no intention of calling one postal code home.
"Brad (Pitt) jokes with me, I'm a master packer," she laughed. "I am. I love it. I have departments for the kids and the different things and I love it. I actually like to be packed all the time. My mom used to travel, so I remember going to bed with the suitcase at the end of the bed – it is a fond memory. I love to be on my way somewhere."
For Jolie, seeing the world is, quite simply, a crucial part of life.
"I'm extremely blessed, I don't know how I've become so blessed in my lifetime, my children are healthy and we get to see the world. We get to live in the world, not just visit. We get to spend months in places and explore and learn about cultures," she said. "It's part of growing up, you get to a place one day and you feel like you understand what it is to be human and also to be part of a working within the world and participating and trying to find solutions or understanding other humans, other cultures, having respect for other cultures. I got lucky I learned those lessons young."
And it seems Jolie's passion for expedition has rubbed off on her "Tourist" co-star, Johnny Depp.
"I want to travel around the world with my kids on a boat and my girl," he told us. "(To spend) a couple of years… you just circle the globe and not think about [anything.]"
But before he goes too far, the 47-year-old may want to consider removing his Captain Jack Sparrow not-so pearly whites.
"I can't get rid of the silver. I've brushed beyond belief but it just doesn't go away," Depp explained. "I haven't made it into a dentist because they actually have to pluck them off. It takes some kind of . . . I'm from the old school so I don't just snap those things in. I get them bonded on, so they have to be plucked and filed and all that horror."
Oh, the things they do for their craft.