Emma Thompson says she won't work with ex-Pixar executive John Lasseter, withdraws from movie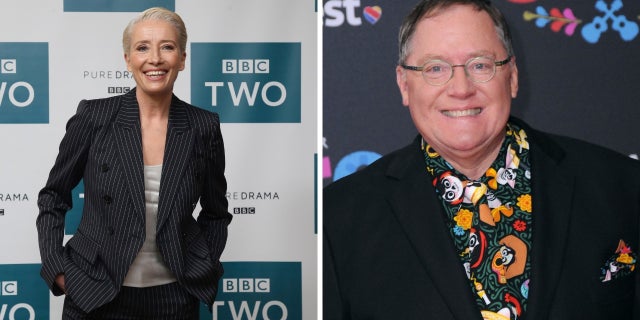 NEWYou can now listen to Fox News articles!
Actress Emma Thompson outlined in a letter why she refused to work with former Pixar executive John Lasseter and withdrew from the animated film "Luck."
Thompson left the project last month shortly after Skydance chief executive David Ellison hired Lasseter, a Pixar co-founder and former Walt Disney Co. animation chief. Last year, Lasseter was forced out at Disney after acknowledging "missteps" in his behavior with female employees.
EMMA THOMPSON ASKED PRINCE WILLIAM IF SHE COULD KISS HIM DURING HER DAMEHOOD CEREMONY
Thompson, 59, wrote in her letter that she found it tough to walk away from the project, which is being directed by Alessandro Carloni, but she felt it was the right move.
She also said she felt it was "odd" for the Skydance to hire Lasseter.
"It feels very odd to me that you and your company would consider hiring someone with Mr. Lasseter's pattern of misconduct given the present climate in which people with the kind of power that you have can reasonably be expected to step up to the plate," she wrote.
The "Love Actually" star questioned why women at Skydance should trust someone who "has made women at his companies feel undervalued and disrespected for decades."
FORMER PIXAR CHIEF JOHN LASSETER'S NEW CONTRACT HAS SEXUAL MISCONDUCT LEGAL PROTECTION CLAIMS: REPORT
"Much has been said about giving John Lasseter a 'second chance,'" she wrote. "But he is presumably being paid millions of dollars to receive that second chance. How much money are the employees at Skydance being paid to GIVE him that second chance?"
Thompson wrote that "no women received settlements from Pixar or Disney as a result of being harassed by John Lasseter."
"Are we supposed to feel comforted that women who feel that their careers were derailed by working for Lasseter DIDN'T receive money?" she pointed out.
The Associated Press contributed to this report.