Eiza Gonzalez Posts Cryptic Message, Skirts Around Liam Hemsworth Relationship Questions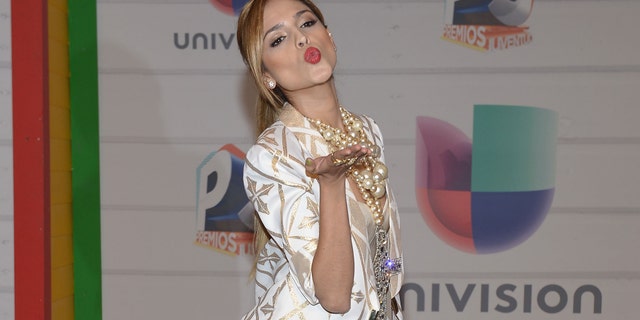 Eiza Gonzalez and rumored boyfriend Liam Hemsworth were last seen cozying up during a romantic weekend to New York earlier this month. They have not been seen together since.
Just days after their romantic rendezvous, the Mexican singer-actress posted a cryptic and somewhat sad Spanish poem on Instagram that some speculate to could a message to the "Hunger Games" heartthrob.
The poem, translated, reads: "I am like a book. Apparently a boring one. Easy to throw away. You don't know if it's there or not; but once you open it you notice, for each page, that I hide a secret, that I am not like you and that I much better than the people who are trying to tear me down. That I have magic, that I have imagination, that I am full of inspiration and full of riddles, that I am a mystery, but you don't know because I am one of these books nobody reads."
"That type of person…" is the caption with the image.
Last week, Gonzalez, 23, who attended Glamour magazine's 15th anniversary party in Mexico City, was quizzed by reporters about Hemsworth, who is also 23.
According to Cross Map and Entertainment Wise, the actress refused to talk about Hemsworth and said: "To me what matters is to talk about my work. At the end of the day the rest is irrelevant because that (is) ephemeral."
Gonzalez added, "It's not important. What's important is what you can bring to the public and entertaining people. That's the most important thing for me."
It's not the first time she has declined to comment on her relationship with Hemsworth. During a press conference in Mexico last month promoting the DVD release of the movie "The Croods," Gonzalez was hammered by reporters about the rumored relationship. Instead of responding, she simply walked out.
Meanwhile, Hemsworth's ex,, Miley Cyrus, finally spoke out about the split, telling TV host Ellen DeGeneres she is letting "that chapter kind of close and (is) just looking forward to that new one."
"I want to be really clear and determined with everything I'm doing in my life right now, and I have been," Cyrus continued. "I keep saying I'm the happiest I've ever been and that's not even a dig. That's just me, because I really am genuinely happy finally with myself, which I think sometimes it takes you separating yourself from someone else to really be happy with who you are."
Hemsworth and Cyrus announced their break-up in September, just days before he was photographed with Gonzalez during a trip to Las Vegas. Gonzalez is set to appear in the upcoming comedy film "All Hail the Squash Blossom Queen."
Follow us on twitter.com/foxnewslatino
Like us at facebook.com/foxnewslatino