Donald Glover's creepy 'Atlanta' character Teddy Perkins appears at Emmys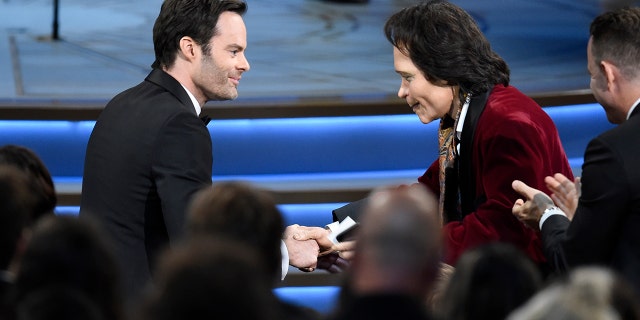 Donald Glover's creepy white alter ego, Teddy Perkins, appeared in the front row of the Emmy Awards Monday night, taking selfies and congratulating winners before they went onstage.
Glover played the character on the FX hit series "Atlanta."
"Perkins" wore the same outfit he sported on the show — a red velvet dinner jacket, heavy white makeup, prosthetics and a bob cut wig.
Perkins' appearance set social media alight as many were surprised by the character sitting front row.
"Perkins" congratulated Bill Hader, who won the Emmy for best actor in a television comedy over Glover — who was last year's winner. Hader had no idea who he shook hands with.
"I don't know who it was, but I know it was that guy from 'Atlanta,'" Hader said backstage.
When Glover was shown in the crowd, Perkins was nowhere to be seen. However, it was unclear who was actually in the Perkins costume.
Perkins became one of the most intriguing characters on the second season of "Atlanta."
The Associated Press contributed to this report.