Does Adele's hit 'Hello' normalize sexual harassment?
The University of Oklahoma's Gender + Equality Center says Adele's song "Hello" helps "normalize sexual harassment." In a series of posters distributed on the university's campus, the group cites the hit single's verse: "I must have called a thousand times."
Kathy Moxley, Director of the Gender + Equality Center, explained the song was chosen in order to direct the attention of students during "Stalking Awareness Month" to an issue they may have otherwise ignored.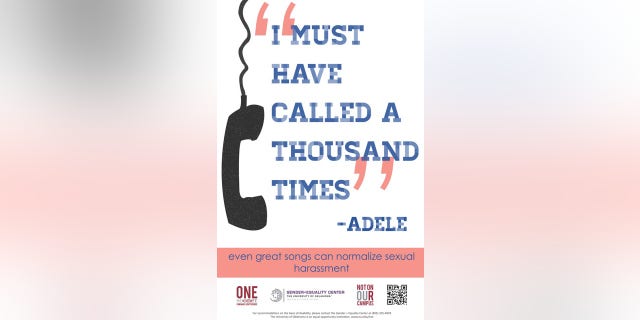 "To begin a much needed conversation about harassment on college campuses, the University of Oklahoma Gender + Equality Center used popular songs that students listen to, to attract students' attention and to bring awareness to subtle messages in popular song lyrics," Moxley told FOX411. "The music examples were used to demonstrate how aspects of popular media could be interpreted to normalize unhealthy relationship behaviors."
Another poster used lyrics from Maroon 5's song, "Animals." "Baby, I'm preying on you tonight. Hunt you down eat you alive," Maroon 5 singer Adam Levine croons.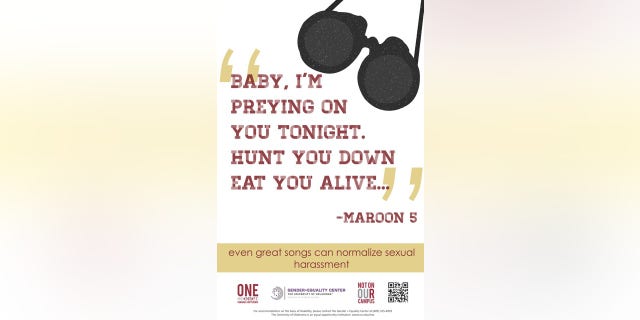 Moxley said the posters were not intended to criticize the singers or songs, but Dan Gainor, VP Business and Culture at Media Research Center, told FOX411 the posters undermine the importance of the message about sexual harassment awareness.
"I think creating a ridiculous comparison undermines the true horrifying nature of stalking and sexual harassment. The bureaucrats who did this aren't helping women," Gainor said. "I think the university needs to talk to its staff and tell them to stop being idiots. Their goal is to educate and help protect people. Not hold them up to ridicule."
University of Oklahoma Vice President for Public Affairs Catherine Bishop takes issue with Gainor, telling FOX411 in an email: "The University agrees with the statement that was provided to you by Kathy Moxley."
According to the organization's Facebook, "the mission of the OU Gender + Equality Center is to foster social justice by advocating for the rights of women and LGBTQ students, empowering those without a voice, and challenging inequality."
Moxley said the program "is funded by the University's education and general budget. Title IX law requires on-going campus education surrounding the topic of sexual misconduct." She added, "This was a joint venture program between the Sexual Misconduct Office and the Gender + Equality Center designed to help address the issues of sexual misconduct on campus. The University funds these offices, which promotes the University's commitment to prohibit discrimination on our campus."
Adele's rep had no comment. (And we didn't have to call a thousand times.)