Derek Zoolander brings 'blue steel' to the cover of 'Vogue'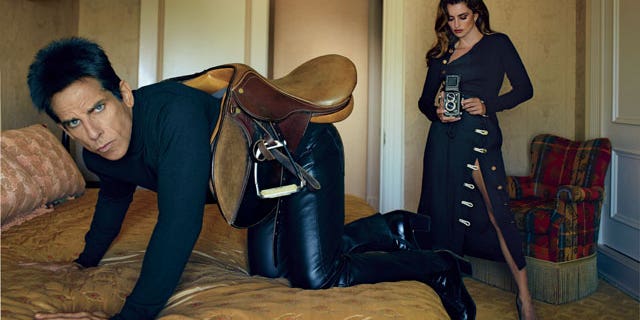 Ben Stiller and Penelope Cruz are staying in character for Vogue magazine's Zoolander 2 photoshoot.
Derek Zoolander (Stiller) poses for his first cover of the high-fashion magazine alongside the femme fatale Valentina (Cruz). Anna Wintour, American Vogue's editor-in-chief, even played along and had Derek and Hansel (Owen Wilson) show their runway walks.
While the fashion world was very open to participating in the film sequel, Stiller says that they couldn't manage to get Karl Lagerfeld to commit to a cameo in the movie. "He's iconic," Stiller said of Chanel's creative director. "It breaks my heart. Maybe if we ever do another."
WATCH: Ben Stiller and Owen Wilson Walk the Valentino Runway as Derek and Hansel
Marc Jacobs, however, was more than happy to play himself in the comedy. "I was thrilled to say yes to Ben," he said. "I thought the first one was hilarious."