Demi Lovato Making More Money Than Paulina Rubio, Kelly Rowland In 'The X Factor'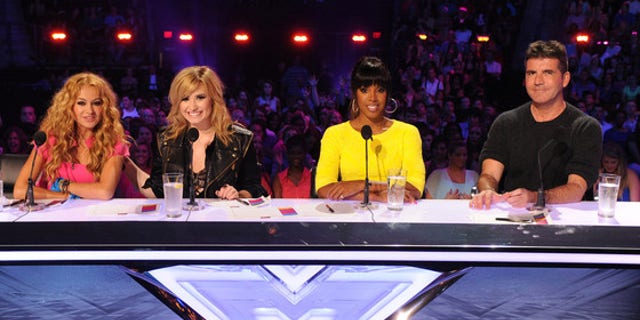 It pays to be a judge on "The X Factor." However, it really pays if you are Demi Lovato.
While her fellow Latina, Paulina Rubio, may be a superstar in her native Mexico, she still has a ways to go when it comes to garnering the same celebrity status Lovato has in the states.
And that is evident by the differences in their pay.
According to the Hollywood Reporter, Rubio is being paid close to $1.5 million to appear on the show.
But Lovato, who received $1 million for her first season on the show, doubled her fee the second time around -- making her both the youngest and highest-paid female on the show.
Lovato was able to do this thanks to the overwhelming support she received from the viewer's during her inaugural season as a judge.
While Rubio is still making more than other female judge, Kelly Rowland, she also is getting an additional check for her judging duties on La Voz Kids, a Spanish-language kids version of The Voice airing on Telemundo.
Fox has saved big by adding Rubio and Rowland, who will earn a cool $1 million, compared to the gigantic $15 million salary Britney Spears was paid the last time around.
Even though it was said the two were added in lieu of mega stars because they have had success on similar programs, money issues amid a steep ratings decline is also likely.
"Salaries are all over the place because ratings are all over the place," a source told the Hollywood Reporter.
Last season, despite the additions of Spears and Lovato, the talent competition show lost 20 percent of its key audience age group.
According to Kantar Media, ad revenue for the show has also dropped in the last year from $502 million to $386 million.
On Tuesday, auditions for the show began in Charlotte, N.C.
Follow us on twitter.com/foxnewslatino
Like us at facebook.com/foxnewslatino