David Letterman chats with Jimmy Kimmel, helps his young rival to a ratings record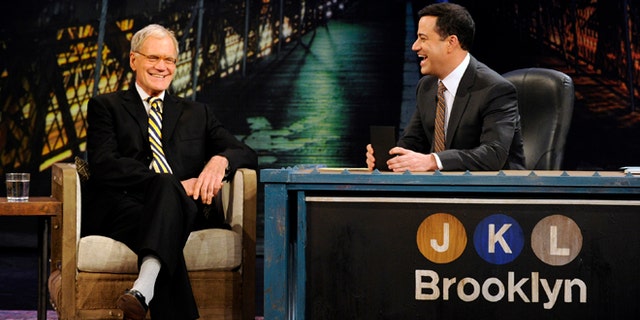 Jimmy Kimmel said David Letterman had fulfilled a childhood dream by appearing on his rival talk show Wednesday night, and it looks like the late night tete a tete delivered dream ratings as well.
Letterman's appearance on Jimmy Kimmel Live brought the show 2.35 million viewers, it's biggest Wednesday audience since its debut in 2003.
The late night lovefest came after both Letterman and Kimmel had played to empty theaters for two nights due to Hurricane Sandy.
Letterman hosting the "Late Show" to an unpeopled Ed Sullivan Theater on Tuesday, as he did on Monday, was the oddest sight of the considerable and continuing cultural fallout of the hurricane that left New York institutions like Broadway, Carnegie Hall and Lincoln Center no more open for business than the city's damaged subway system.
But the New York entertainment industry was fighting to go on with the show, and none more than several of the city's late-night shows. Though "The Colbert Report" and "The Daily Show" canceled tapings for the second day, the "Late Show," Jimmy Fallon's "Late Night" and a traveling out-of-towner, ABC's "Jimmy Kimmel Live," went ahead with shows Tuesday.
When "Late Show" band leader Paul Schafer asked Letterman how they were supposed to approach such an awkward situation, Letterman quickly replied: "Just like every night: We pretend the audience isn't here."
When Letterman introduced his first guest, Kate Hudson, the actress didn't stride out; instead appeared a middle-aged bald man - presumably an employee of the "Late Show" - who bantered with Letterman as if he were Hudson.
The three shows took varied approaches to inviting audiences to brave the difficult transportation prospects. Kimmel, a Brooklyn native, had planned to begin a week of shows in the borough on Monday. He began them a day late on Tuesday - with audience - at the Brooklyn Academy of Music.
"I was born in Bay Ridge. I grew up in Mill Basin, and tonight I have returned to save my people from the storm," said Kimmel, referring to Brooklyn neighborhoods. "Thank you for ignoring the local authorities to be here tonight."
Like Letterman, Fallon had hosted his show Monday without an audience - an experience that guest Seth Meyers compared to watching Charlie Rose "if he had a band and everybody was a little high" - but he happily welcomed audience members back on Tuesday.
"First off, thanks to our great audience for making it out to the show tonight," Fallon began his monologue Tuesday. "I'm so glad you're here, because last night's audience was the worst."
As the city took account of the damage wrought by the storm, the aftermath of Sandy continued to cause the cancellations of film premieres, film and TV production and even that most unshakable performer: Bruce Springsteen.
The Bruce Springsteen and the E Street Band concert scheduled for Tuesday night at the Rochester Blue Cross Arena in upstate New York was postponed until Wednesday because of flight cancellations for the band and ticket holders.
The city revoked film permits for a second day Tuesday. The sets of "Smash," "Law & Order: Special Victims Unit," "30 Rock," "Deception" and "Do No Harm" were closed, NBC said, and "SVU" didn't tape Wednesday. Other series temporarily knocked out of production included "666 Park," "Gossip Girl" and "Person of Interest."
Films forced to stop shooting include Darren Aronofsky's "Noah" and Akiva Goldsman's "Winter's Tale," and the Tuesday premiere of Joe Wright's Tolstoy adaptation "Anna Karenina" was canceled.
ABC's "Good Morning America," NBC's "Today" show and "CBS This Morning" aired live Tuesday with extensive storm coverage, though "GMA" was forced to cancel its planned Wednesday Halloween special.
Daytime shows were less successful, with production called off for "Live! With Kelly and Michael," "Katie," "The View" and "The Chew."
All 40 Broadway theaters were closed, and while most hoped to be open Wednesday, both "The Lion King" and "Mary Poppins" announced that Wednesday's shows would also be canceled.
Two Broadway shows were even offering a special discount - if you could walk to their theaters. Tickets to the Roundabout Theatre Company's productions of both "Cyrano de Bergerac" and "The Mystery of Edwin Drood" were going for $20 for Wednesday's matinee and evening shows to customers who show their MetroCards, made useless by the storm.
Carnegie Hall and Lincoln Center canceled performances and the Metropolitan Opera and Radio City Music Hall were also closed. The 57th Street entrance to Carnegie Hall - which also canceled Wednesday concerts - was blocked by a street closure because of a dangling crane. The Metropolitan Opera said Tuesday that it planned to go ahead with its Wednesday evening performance of Thomas Ades' "The Tempest."
The Apollo Theater was forced to postpone its signature show, the Amateur Night finale, from Wednesday night to Nov. 14. Apollo president and CEO Jonelle Procope said finalists weren't able to travel to the event.
The financial hit for touring musicians will depend in part on how long it takes transit and other infrastructure to return to normal, said Gary Bongiovanni of Pollstar, the trade publication that tracks the concert industry. Atlantic City, where a lot of acts perform, was particularly hard hit. New York concert cancellations included those for Journey at the new Barclays Center in Brooklyn and a Beacon Theater benefit concert for marriage equality that was to feature Rufus Wainwright, the National and They Might Be Giants.
The storm also jolted one of the gaming industry's biggest releases of the year. GameStop stores canceled planned midnight launches of the highly anticipated Ubisoft video game "Assassin's Creed III" throughout the Northeast, but Wedbush analyst Michael Pachter doesn't anticipate the storm will derail the interactive medium at the beginning of its busiest sales season.
"That won't impact overall game sales," Pachter said. "The people who stayed home last night will buy it tomorrow."
The Associated Press contributed to this report.