Dave Chappelle pities 'poor white' Trump voters in new Netflix special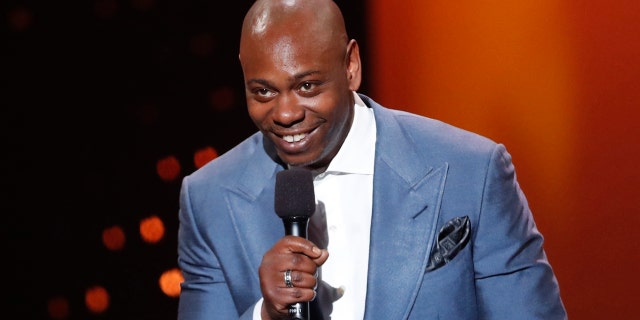 NEWYou can now listen to Fox News articles!
Dave Chappelle admits to feeling sorry for the "poor white" population who voted for Trump in a new comedy routine.
Chappelle will return to the small screen with a new stand-up special, "Equanimity," set to stream on Netflix December 31, with a segment dedicated to his sympathy for "poor white" Trump voters.
In the routine, the comedian explained that he spoke with several Trump supporters in that demographic while in line to vote last year, and they told him they were voting for the now president because he was going to fight for them.
Chappelle then says in the bit: "I'm standing there, thinking in my mind, 'You dumb motherf---ers. You are poor. He's fighting for me.'''
The comedian goes on to compliment the group of people he spoke with, calling them "decent folk," but called their comments about Trump "naive, poor, white-people things."
"I've never had a problem with white people ever in my life, but, full disclosure, poor whites are my least favorite," he began the segment. "We've got a lot of trouble out of them."
Netflix released a preview of the Chapelle's stand-up special on Wednesday, December 20, the same day that Congress approved Trump's new tax plan, which will introduce a 40 percent tax reduction for major corporations in America.
Following the 2016 election last November, Chapelle hosted "Saturday Night Live" and performed a joking monologue about how he planned to give Trump "a chance." During that same episode of "SNL," Chappelle performed in a skit about educated, upper-middle class, white Hillary Clinton supporters who are shocked when Clinton loses the 2016 election.
Chappelle is then joined by fellow comedian Chris Rock, who informs the disappointed Clinton supporters that it was clear that Trump was going to win the election due to the country's long history of racism.
In August, Chappelle appeared on "The Late Show" and talked to host Stephen Colbert about his appearance in "SNL" that night.
"It's not like I wanted to give him a chance that night," he said.
Colbert then asked how the comedian felt about Trump now, but instead of giving his own personal thoughts on the president, Chappelle said the public is now "getting an education (on) the presidency."