'Dark Knight' massacre could prompt massive, expensive security changes at movie theaters, experts say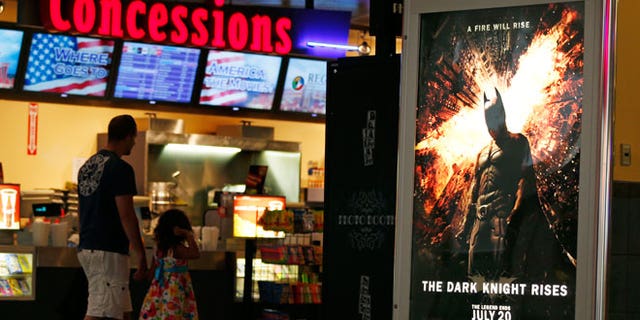 NEWYou can now listen to Fox News articles!
In the wake of Aurora's tragic 'Dark Knight Rises' screening massacre, the entertainment industry has been abuzz with speculation and concern about the safety of moviegoers and how this could impact the theater industry long-term.
Stephen Galloway, The Hollywood Reporter's Executive Features Editor, tells FOX411's Pop Tarts column that incident will likely cause theater owners to debate stepping up security – which would in turn impact ticket prices, and that in turn could affect movie theater stock.
Meanwhile, Thelma Adams, Yahoo! Movies contributing editor questioned why all cinema guests can't be "bag-checked and wanded" the same way critics and the press are prior to advanced screenings.
But such measures come at a cost, and Hollywood movie producer Mark Joseph is not convinced that cinema patrons will be willing to pay even more to see a movie, even if that does translate to an added feeling of security.
"You can never guarantee safety and movie tickets are already too high," he said. "There will be efforts to ban costumes, check bags and increase security but in three months it will be back to normal."
However, leading crisis management expert, Gene Grabowski of Levick Strategic Communications, argues that the latest tragedy will have a permanent effect on the once simple adventure of going to the theater.
"The Colorado shooting incident will have repercussions in the movie theater business for at least a few weeks, as theater owners properly demonstrate that they are taking safety precautions for their customers. Parents are very concerned that their children are being frightened by news reports and so business will likely drop of for a while," he explained. "Many theaters, especially those showing movies with violence, will be equipped with metal detectors. The major theater chains will certainly enforce these restrictions across the country in order to protect against copycat incidents and to protect against lawsuits. But it likely won't last beyond (a few weeks) because other news stories will overtake this one, just as people returned to their normal lifestyles after shootings at high schools and universities."
And it seems truly passionate, costume-wearing movie goers will have their cinema experience taken down a notch with the possible enforcement of a long-term no-costume policy, given that shooting suspect James Holmes reportedly wore an elaborate assassin-like outfit complete with a ballistic helmet and gas mask to the screening. He also dyed his hair red and later referred to himself as "The Joker" when taken into custody.
"We will not allow any guests into our theaters in costumes that make other guests feel uncomfortable and we will not permit face-covering masks or fake weapons inside our buildings," Ryan Noonan, AMC Director of Public Relations, said in a statement. "If guests wish to exchange or refund any tickets, we will honor our existing policy and do as our guests wish."
The representative also noted that the prominent cinema chain had no plans to alter its show schedules, but are working with local law enforcement agencies, landlords and local security teams nationwide to "provide the safest environment possible for guests," and a spokesperson for the National Association of Theater Owners concurred that members were in the process of reviewing security procedures.
"It's not unlike the ramped-up security in schools across the country after Columbine, and the increase of security at airports after 9/11. It's just what needs to be done right now," Jami Philbrick, Managing Editor of movie news site iamRogue.com. "The effect this all has on the theater industry is the true question. With the advent of HD TVs, Blu-ray, Netflix and especially VOD, the theater industry was already in trouble … and this could make it worse."
However, veteran Hollywood entertainment and pop culture reporter Scott Huver, said too many stringent changes could turn away patrons in the long-term and that clearly wouldn't be good for the industry."
As a nation we must be careful before being too reactionary and implementing measures that do more to impinge our personal freedoms than they do to ensure public safety," he added. "Some things as fast and simple as a bag and coat check might be an acceptable price that patrons are willing to pay to feel more secure, but ultimately moviegoers may be more likely to accept that sometimes the bad things that occur are beyond reason and control, and attempts to guard against them aren't worth the cost of every day liberties."