'Dancing with the Stars'' Victoria Arlen cries, while Jordan Fisher and partner battle injuries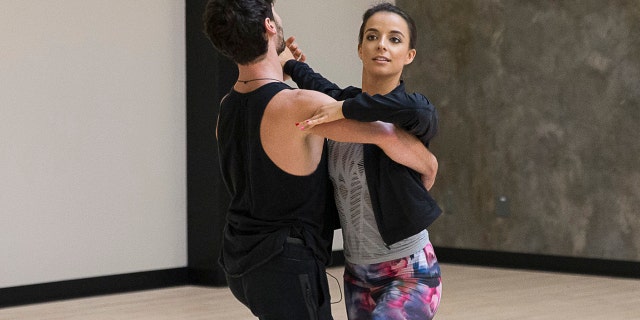 In a dramatic Monday night on "Dancing with the Stars," former Paralympian and ESPN personality Victoria Arlen dissolved in tears after learning of her elimination—just short of the show's finals.
Meanwhile, front runner Jordan Fisher and his partner Lindsay Arnold earned top scores in the semifinal despite suffering serious injuries.
Arlen, who couldn't walk for years after becoming paralyzed, impressed judges and "DWTS" fans with her courage in the ballroom. The former athlete performed well all season with partner Val Chmerkovskiy but was shocked when told she was going home.
At the end of the live show, Arlen, who was in the bottom two with former "Malcolm in the Middle" star Frankie Muniz, was teary-eyed and Chmerkovskiy whispered some kind words in her ear before host Tom Bergeron bid her goodbye.
An emotional Arlen didn't complete her press interviews backstage, and Muniz told reporters, "She's very sad [about elimination]….To be honest, I became really close with Victoria this whole time—and before every single one of my performances, no joke, she would come up to me and give me a motivational speech. She was so supportive so it was really sad to see her go."
"Hamilton" star Fisher's partner Arnold injured her knee while rehearsing a pro dance and told the cameras it felt like "my whole leg gave out." But, wearing tape around the knee, she guided Fisher to 28 out of 30 points for an Argentine tango and then a perfect score for a jive that recreated a dance from a previous "DWTS" season. Judge Bruno Tonioli said it topped the original dance by Paige Van Zant and Mark Ballas in season 22.
After the first dance, Fisher told co-host Erin Andrews that he'd scratched his cornea due to "a [finger] nail in the eye."
"Everything hurts at this point," Fisher admitted backstage about his eye. "Light hurts, blinking hurts, keeping my eye open hurts, it's hard to see. It's just one of those freak things."
Fisher said he and Arnold were "like a pirate—with one good leg and one good eye, still managing to make a trip to the finals. We're looking forward to getting some good rest."
They were delighted by being top of the leader board on Monday with a total of 58, and violinist Lindsey Stirling and Ballas were second with a cumulative 57 points for their two dances.
Stirling said, "We made it through! This competition has made me grow."
She revealed the show had healed her heartbreak as she'd split from her boyfriend during "DWTS."
"Breakups are so hard and I can't imagine anything better to distract you" than nonstop dancing, Stirling said. "I haven't had a chance to think."
Muniz and pro Witney Carson did a creative salsa and on a night in which the dancers picked songs for their celebrities, the sitcom star performed to "Shake."
Carson ripped off his leather jacket at the end so Muniz fulfilled his earlier promise to bare his chest on the floor.
"That may have lost us the mirror ball," he joked afterwards.
Their second dance recreated an Apolo Anton Ohno number with Julianne Hough from season 4 and they grabbed a total of 51 points for the night.
Determined Muniz said he and Carson have been rehearsing up to ten hours a day. "I don't think anyone's been allowed to rehearse that long" before, he said.
"Property Brothers" star Drew Scott scored the lowest of the night, as he did last week with partner Emma Slater, but he's been a big hit with fans and made it through again.
"I'm on cloud nine right now. I'm shaking, I'm so excited," Scott told reporters about advancing to next week's finals. He garnered 48 out of 60 from judges for two performances.
Scott amused the crowd by doing a tango while wearing a kilt and told Fox News after the show, as a man dancing in a skirt, "It's a first!" for "DWTS."
"I felt more comfortable in that than half the outfits I've worn [so far on the show] because I'm Scottish!" the HGTV star said.
Next week, the stars will feel the pressure of the two-night finale and Julianne Hough will return as a guest judge.