Corporation for Public Broadcasting got $445 million on first day of government slimdown; calls funding 'indispensible'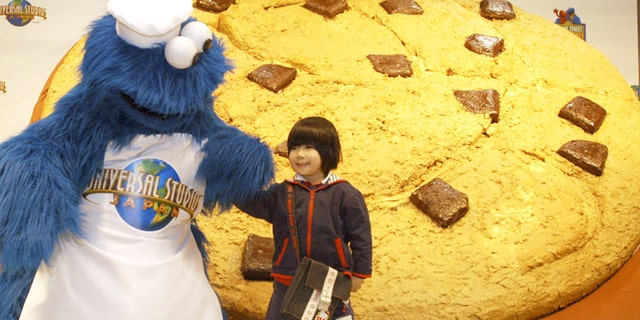 LOS ANGELES – Funding for clinical cancer trials and other life-saving research under the National Institutes of Health was cut off in response to the government slimdown, but it looks like the cookie monster will still be knee-deep in chocolate chips (or is it carrots now?)
According to the Daily Treasury Statement and first reported by CNS News, the administration dished out $445 million to the Corporation for Public Broadcasting (CPB) on the first day of the slimdown, which means funds for the likes of PBS Newshour, NPR and "Sesame Street" are being spent before cancer research.
"It's more than irresponsible, it is reprehensible. It's an 'in-your-face' move by the administration, blatantly picking winners and losers in this shutdown," C. Edmund Wright, a columnist for Breitbart.com and American Thinker, told FOX411. "Public broadcasting is a staple of liberal propaganda."
And as Media Research Center's Director of Media Analysis, Tim Graham, pointed out, PBS has hosted two "very friendly" interviews with President Obama in recent weeks.
"It certainly looks like 'you scratch my back, and I'll scratch yours," he continued. "Liberals see PBS and NPR as their own personal sandbox, as a supposed balance of the 'capitalist bias' of the commercial networks, as silly as that sounds."
But the CPB defended their big payday, telling FOX411 in a statement that their funding was "indispensable"and provide jobs for thousands of people.
"The United States Treasury sent public broadcasters their two-year advance appropriation -- a sum, approved by Congress in 2012 for FY 2014, representing only 0.01% of the federal budget," said rep Kelly Broadway. "Seventy percent of these indispensible dollars are promptly sent to locally-owned and operated stations in cities and rural communities all across the country, as they have been for most of the past 40 years. There, they provide jobs for more than twenty thousand people who are working to support 'America's Largest Classroom' as well as life-long learning for all Americans with our unique cultural, public affairs and news programs."
The October 1 statement also reveals that the Treasury gave almost the same amount on the first day of the slimdown ($471 million) to the entire Department of Health and Human Services. Social Security Benefits was awarded $171 million, $137 million went to the Postal Service Money Orders and $337 to Unemployment Benefits. The Veterans Affairs programs received $592 million.
However, one expert we spoke to said loopholes enable the CPB and other nonprofits like it to receive federal funding while still claiming independence.
"CPB is a nonprofit corporation that is technically separate from the government. So is NeighborWorks, a nonprofit that receives congressional appropriations, just as CPB does. NeighborWorks helped cause the housing bubble; CPB provides the propaganda that anesthetizes the public, preventing people from laying blame for failed policies at the door of the government," said Matthew Vadum, senior editor at the Capital Research Center. "Keeping a distance by incorporating these entities affords the government plausible deniability when the two nonprofits mess up."
Reps for the Office of Management and Budget did not respond to a request for comment.