Command performance: Juanes to sing for Pope Francis during U.S. trip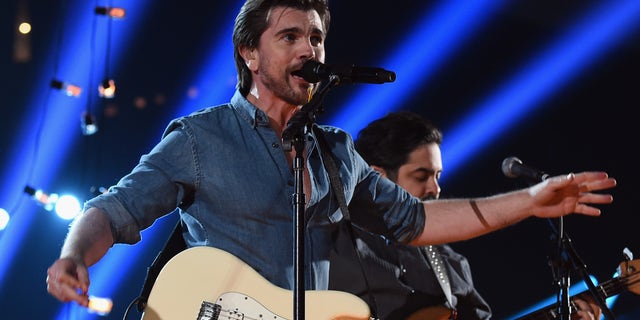 It will be a very special performance.
Colombian pop singer Juanes is set to play for Pope Francis during his visit to Philadelphia this fall.
World Meeting of Families organizers said Tuesday that Juanes and Italian tenor Andrea Bocelli will join the Philadelphia Orchestra as part of the Festival of Families celebration on the Benjamin Franklin Parkway in downtown Philadelphia in September.
"Profoundly honored for the invitation to sing to Pope Francis," Juanes tweeted in Spanish on Tuesday, using the hashtag #ADiosLePido, in reference to his song of the same name.
The 42-year-old singer said Pope Francis' presence and leadership has been crucial in making the Catholic Church "much more modern and much more respectful."
"I think he is a very accepting person, a person who brings people together," Juanes told the Associated Press in Spanish. "So being there as a Colombian, as a Latino, singing to him in Spanish, is a real honor."
Event organizers said they wanted to ensure that we brought together performers that represented the world" when selecting Juanes and Bocelli.
"To have Andrea Bocelli, one of the world's great vocalists, and Juanes, one of the most popular performers in all of Latin America, come to Philadelphia for the Festival of Families is an extraordinary gift," said Donna Crilley Farrell, executive director for the World Meeting of Families, in a statement. "And to be able to have these incredible individuals perform with our hometown jewel in the Philadelphia Orchestra brings this event together in spectacular fashion."
Juanes is one of the world's leading Spanish-language rock artists with two Grammys and 20 Latin Grammys to his name. He is a global activist who engages in wide-ranging charitable work with his foundation, Mi Sangre ("My Blood"), and Paz Sin Fronteras ("Peace Without Borders"), an organization that uses music to unite people regardless of political or geographical divides.
The singer recently wrote "Juntos" ("Together") for Disney's "McFarland, USA," which he performed at this year's Grammy Awards – the first Spanish-language performance during the telecast in 10 years.
Pope Francis is scheduled to celebrate an outdoor Mass on Sept. 27 on the Ben Franklin Parkway, which runs between the Philadelphia Museum of Art and Love Park, the site of the iconic Robert Indiana LOVE sculpture. More than a million people are expected to attend. The Festival of Families is the closing ceremony for the triennial World Meeting of Families, a Catholic conference designed to strengthen family bonds throughout the world.
Juanes, who has three children with his wife Karen Martinez, is a good fit for the event.
"I wish I could stop time every moment I spend with my children and always be with them," Juanes said. "They give me so much joy and strength. They are like this connection to reality. They keep me grounded."
The Associated Press contributed to this report.