Grammy Awards: Juanes makes history with show's first performance in Spanish in 10 years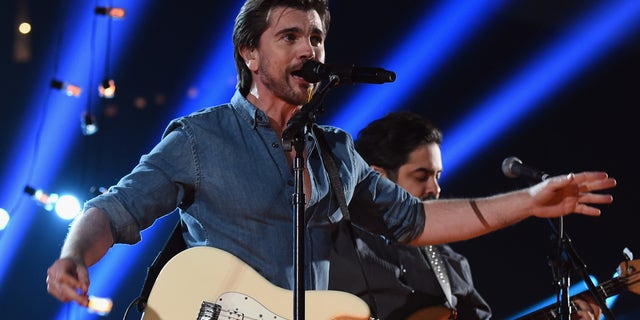 NEWYou can now listen to Fox News articles!
Colombian rocker Juanes was a highlight of the 57th annual Grammy awards on Sunday when he took the stage to perform his new single, "Juntos," from the upcoming film "McFarland USA."
Juanes, who was introduced by Golden Globe-winner Gina Rodriguez, was the first artist in 10 years – since Jennifer Lopez and Marc Anthony sang "Escapémonos" – to perform on the Grammys in Spanish.
"The song he's about to share with us is called 'Juntos,'" Rodriguez explained. "And it speaks to the truth that when people of various backgrounds work together, they can accomplish so much more."
Some viewers shared their displeasure about the performance via Twitter.
One person tweeted, "When did this turn into the Latin Grammys...?!"
Other comments included, "Aren't the majority of the people at the Grammys white? They're not gonna appreciate any Spanish music"; "Had to switch from the Grammys to 'Twilight' real quick 'cause I don't speak Spanish or whatever the hell he was speaking."
Not all messages on Twitter were negative toward the Latin singer. One defender tweeted, "In other Grammy news, I think I'm the only dude I know who was stoked when Juanes came on. Brought me back to high school Spanish class."
He even got a big shout-out from Grammy-winner Kelly Clarkson. "I don't even understand what @Juanes is singing but I like him better than a lot of people that sang in English ha! Great job @Juanes," she tweeted.
Apart from "Juntos," Juanes was also nominated for best Latin pop album, but lost to Ruben Blades.
Fellow Colombian Carlos Vives, Mexico's Vicente Fernández and Puerto Rico's Calle 13 also picked up Grammys during the untelevised portion of the show. Only Vives was on hand to accept.
"Please forgive my English, my music is much better," joked Vives while accepting the award.
British breakout star Sam Smith took home three of the top four Grammy Awards including best new artist, song and record of the year for "Stay with Me" and best pop vocal album for "In the Lonely Hour."
Beck took home album of the year along with best rock album for "Morning Phase."
The Associated Press and EFE contributed to this report.