Clay Aiken: Jussie Smollett should be 'made an example of' if accusations against him are proven true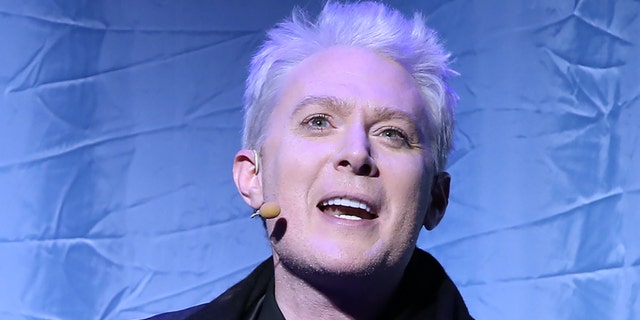 Clay Aiken did not mince words when it came to the current scandal surrounding "Empire" actor Jussie Smollett.
Speaking to The Hill's TV network, Hill.TV, the singer said Monday Smollett should "be made an example of" if he is eventually found guilty of staging a hate crime.
JUSSIE SMOLLETT ALLOWED TO TRAVEL OUT OF STATE TO MEET WITH ATTORNEYS, JUDGE SAYS
"I don't want to rush to judgment — that said, if it bears out and the evidence shows that it's proven in a court, that he did what the Chicago police are saying he's done, I do hope that … we do make an example of him," said Aiken, who was a finalist on the singing competition show "American Idol" in 2003.
"There is an instinct sometimes for high-profile people to get probation and I don't believe that this is a situation at all to not be made an example of," he added.
The news comes after TNT pulled a "Drop the Mic" episode that featured Aiken and Smollett after the "Empire" actor was arrested.
"We had an episode of Drop The Mic this season with Jussie that you'll now (correctly) never see, but sadly it will shelve @clayaiken, WHO WAS A VERY GOOD RAPPER (at least for now)," the show's executive producer Jensen Karp wrote on Twitter.
"FINALLY, I win a competition on TV and dumb #JussieSmollett screws it up so no one will ever know!! Just look at all the damage he's caused!! Ya know what, @DropTheMicTNT? I think he was just afraid for America to see me spit my rhymes so well," Aiken, 40, tweeted in response.
Smollett, who is black and gay, went viral after he claimed he was attacked by two men in Chicago in late January. The actor told police the men yelled racial and homophobic slurs and referenced "MAGA," President Trump's campaign slogan during the alleged attack. The incident was initially investigated as a possible hate crime.
JUSSIE SMOLLETT'S ALLEGED CHICAGO ATTACK DETAILS UNFOLD: A TIMELINE OF EVENTS
But not long after, Chicago police announced their investigation "shifted" following new information that eventually led to accusations Smollett had allegedly staged the attack.
Last week, Smollett turned himself in to police and was placed in the "custody of detectives." He was charged with disorderly conduct but was released after posting $10,000 cash. He was also ordered to surrender his passport.
Smollett's next court date is March 14.
Fox News' Jennifer Earl and The Associated Press contributed to this report.