Classic stars explain why Hollywood sucks these days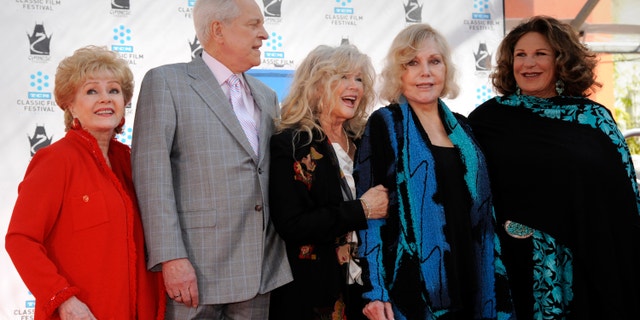 NEWYou can now listen to Fox News articles!
LOS ANGELES – The TCM Classic Film Festival took over the heart of Hollywood, highlighting decades-old movies and celebrating stars from the entertainment industry's beloved Golden Era. So what is the special ingredient in classic films from "Cabaret" to "The Thief of Bagdad" to "Singin' in the Rain" that's missing today?
"I wish they would clean up some of the movies, make them a little more wholesome," Debbie Reynolds told FOX411's Pop Tarts. "I think the American public wants that, so we should give it to them."
Linda Gray, best known for her role as the Sue Ellen Ewing in the prime time soap "Dallas," said that today's scripts often don't develop characters and their relationships very well.
"We are used to everything being so fast – next, next, next – so it is lovely for younger people to be able to see the magnitude and magic of old Hollywood films," she explained. "Films for me they have been all about relationships. I think they spent more time expanding those relationships back then."
[pullquote]
Woody Allen's longtime collaborator Tony Roberts misses the Old Hollywood studio system and how it functioned to establish iconic stars.
"In the old studio system [actors and actresses] signed up for seven years or five years, and they made a lot of movies each year. They could still make bad movies, yet they still got parts, because they had a contract and they learned on the job," he said. "Nowadays, if you are lucky enough to get one or two pictures under your belt, that could be the end of you – and you never grew, you never got that comfortable being a character in front of the camera."
Roberts said it was this stability that enabled screen stars to really shine.
"When you think of the old actors and the movies they made each year, they finally had a chance to be great when they got a great script. You can't remember 80 pictures, but you remember five or four because they were good scripts and knew what to do with them," he said. "That's what is missing today."
As for Liza Minnelli, who was feted alongside co-star Joel Grey for her work in "Cabaret" during the festival, embracing all that is new is what keeps her motivated to keep on entertaining the masses.
"Some of what is coming out is brilliant today," she added. "Something (exciting) will always happen tomorrow, you have got to stay curious. Luckily, my phone always rings."