Celebrities react to the death of Neil Simon at age 91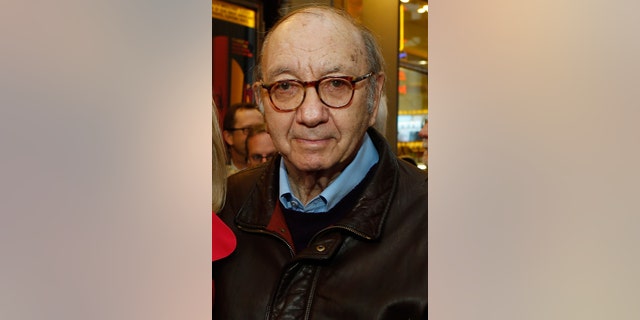 Stars took to Twitter on Sunday to mourn Neil Simon, who has died at age 91.
According to Bill Evans, Simon's longtime friend and the Shubert Organization director of media relations, the playwright died early Sunday of complications from pneumonia at New York Presbyterian Hospital in Manhattan.
Because of his work in the American theater community, stars far and wide began sharing their personal tributes for Simon following the news he'd died.
Read on to see how some famous faces have reacted:
"To say that #NeilSimon was one of the primary influences on my life and career would be an understatement," tweeted "Frozen" star Josh Gad. "His work, as both a participant and audience, has defined and shaped me on my own journies and carr@eer trajectory. RIP to another lost legend."
Actor Harvey Fierstein mourned the actor on social media, as well.
"Neil Simon - gone! A loss 4 the entire entertainment industry. He could write a joke that would make you laugh, define the character, the situation, and even the world's problems," he wrote.
Fierstein added, "First time I met him he looked at me and said, "Where the hell did they find you?" What a gent."
The Twitter account for the Tony Awards also paid tribute.
"The final curtain has fallen for one of the gods of Broadway," it said. "Multiple #TonyAwards-winning playwright, librettist, screenwriter, and hitmaker Neil Simon has died at 91. Rest in peace."
TODAY weatherman Al Roker was among those who reacted, too.
"What an enduring legacy Neil Simon leaves with his passing," he tweeted."The laughter and joy he leaves behind is priceless."
"Star Wars" actor Mark Hamill took to Twitter to share his thoughts on Simon's passing as well.
"'There's no more money anyone can pay me that I need. There are no awards they can give me that I haven't won. I have no reason to write another play except that I am alive and I like to do it' -Neil Simon #RIP GIANT of the American Theatre #ThanksForTheLaughs."
Bill Prady, co-creator of "The Big Bang Theory" shared kind words for Simon as well.
"There is no American comedy writer whose work isn't influenced by the rhythm and music of Neil Simon's words," he wrote. "With gratitude, Doc."
Brent Spiner, known for his "Star Trek" character Data, tweeted, "Neil Simon. Comedy giant. RIP."
Actor Vincent D'Onofrio also paid his respects.
"Neil Simon a genius," he said. "What a sad few weeks this has been. #RIPNeilSimon."
"Community" actress Yvette Nicole Brown spoke out on the social media platform, too.
"A lot of my heroes are dying," she wrote. "What a sad few weeks this has been. #RIPNeilSimon."
Danny DeVito shared his thoughts on Simon's passing as well.
"Neil Simon the true Sunshine Boy. Happy I got to have fun with him. Peace," he wrote.
"Bones" star David Boreanaz tweeted, "Neil Simon wrote and discovered timeless words that will forever be etched into the hearts of us all."
Fox News' Tyler McCarthy contributed to this report.