Celebrate Frank Sinatra With 10 of His Best Duets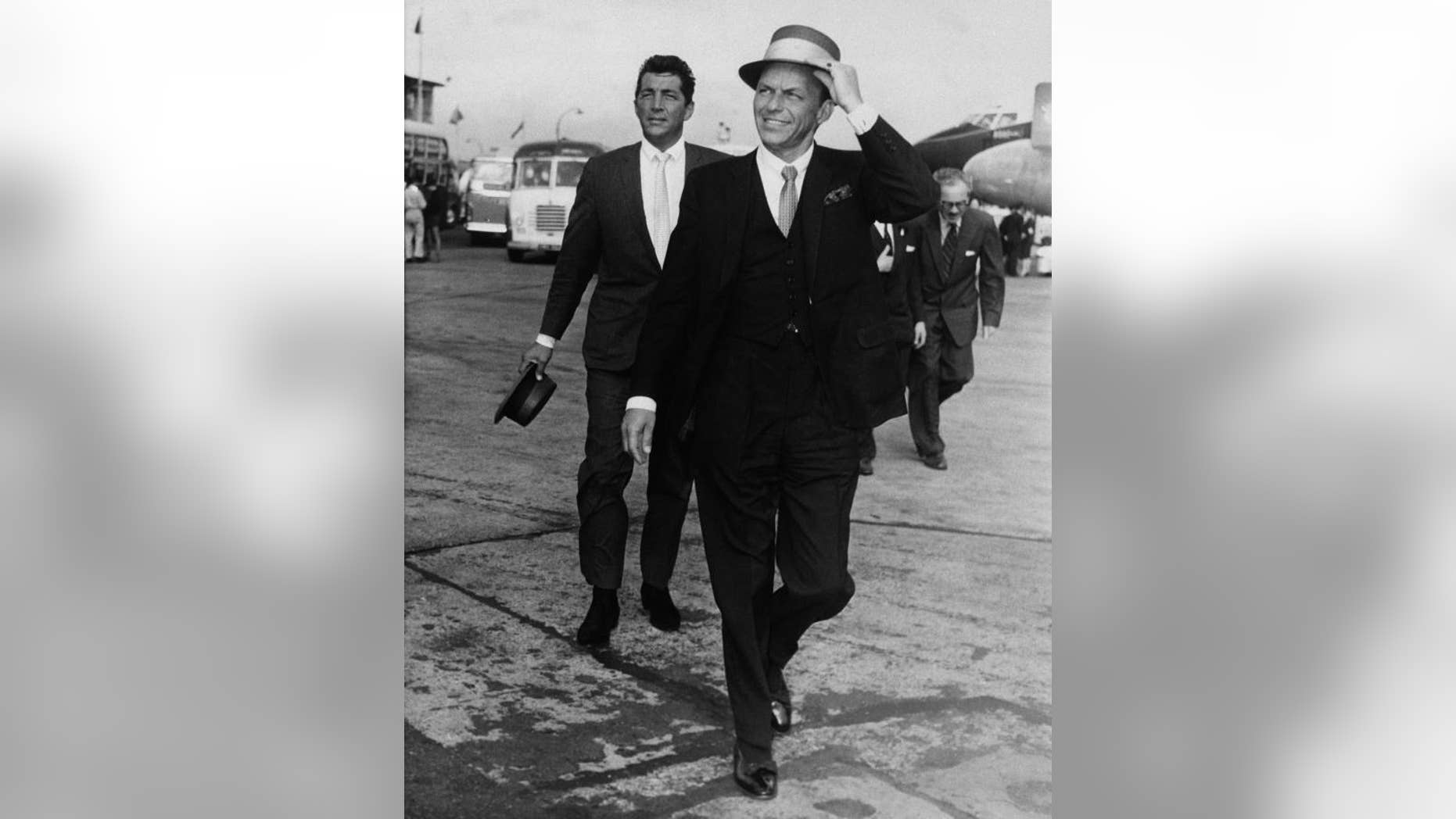 Almost nobody could sing a standard like Frank Sinatra — but when he teamed up with an entertainer who could, it was pure magic.
December 12th marked what would've been Frank's 100th birthday, and to celebrate, we're looking back at his greatest and most memorable duets. Ol' Blue Eyes loved nothing more than singing the songs he adored with the people he adored, so it's no surprise he was at his best when riffing with the likes of Ella Fitzgerald, Dinah Shore, or one of his fellow Rat-Packers.
So without further ado, here's Frank sharing the limelight (and almost always a laugh) with his fantastically talented friends.
Frank and Elvis Presley
In May of 1960, Sinatra staged a special televised event to welcome Elvis Presley home from the army. The broadcast was called "The Frank Sinatra Timex Special: Welcome Home Elvis," and among other memorable moments, it gave us the following performance of "Love Me Tender" and "Witchcraft," with each heartthrob putting his own unique spin on the other's swoon-worthy song.
Frank and Sammy Davis Jr.
Frank and Sammy would belt out the 1927 tune "Me and My Shadow" several times over the courses of their careers (even adding their own new lyrics along the way), but they were at their best in this early variety show, treating the audience to a wonderful — and wonderfully silly — performance.
Frank and Louis Armstrong
"The Birth of the Blues" was originally a hit back in 1926, but Sinatra later revived the medley with success in 1952. In this undated television appearance, Frank pairs up with celebrated jazz trumpeter and gravel-voiced singer Louis Armstrong to perform one of his many hit singles.
Frank and Dinah Shore
This one's a doozy: Frank and Dinah tackle several standards in the span of only four minutes, including "A Foggy Day," "I've Got You Under My Skin," "Taking a Chance on Love," "They Can't Take That Away From Me," "All of Me," "Daddy," "I Can't Give You Anything But Love, Baby" and "You Must've Been a Beautiful Baby."
Frank and Peggy Lee
Peggy Lee, the sultry singer best known for her sizzling single "Fever," was not just a frequent guest on Sinatra's radio shows during the 1940s but also a lifelong friend. In this video, dated 1962, the duo performs the Gershwin hit "Nice Work If You Can Get It," originally sung by Fred Astaire in 1937.
Frank and Antônio Carlos Jobim
Bossa nova rhythms and cigarette smoke fill the air during Frank's televised performance of "Girl From Ipanema" alongside Brazilian musician (and "Girl From Ipanema" composer) Antônio Carlos Jobim. This memorable rendition was taken from the 1967 broadcast "A Man and His Music + Ella + Jobim," during which Frank and Antônio would later perform a beautiful bossa nova medley.
Frank and Natalie Cole
"Sinatra and Friends" was a 1977 television special that Ol' Blue Eyes performed in and hosted. However, his rendition of "I Get a Kick Out of You" opposite songstress Natalie Cole is one to note, as Cole's father, world-renowned singer and jazz pianist Nat King Cole, was a favorite of Sinatra's. (Allegedly, Sinatra would play Cole's records at home to relax, so it was only fitting that Sinatra would team up with Cole's equally talented daughter for an unforgettable appearance.)
Frank and Liza Minnelli
New York City's anthem wasn't always one of Sinatra's all-time classics — it was originally just the theme song for Martin Scorsese's 1977 film of the same name, which was sung by actress Liza Minnelli. It wasn't until Sinatra recorded his own rendition in 1980 that it became a classic. In the following clip, Sinatra and Minnelli unite to perform what is now one of his most iconic songs.
Frank and Ella Fitzgerald
"The best way to start any musical evening is with this girl. It don't get better than this," said Sinatra on performing with singer Ella Fitzgerald, also known as "the voice of jazz." (That said, it's no wonder the two would perform together on numerous occasions throughout their careers.) In this undated clip, Sinatra and Fitzgerald give a live performance of "The Lady is a Tramp," a single they've both previously recorded.
Frank and Dean Martin
A list of Sinatra's best duets wouldn't be complete without an appearance from Dean Martin. Not only did their voices and singing styles complement each other perfectly, but it was always clear they were having almost too much fun performing together, especially in this particularly memorable medley from "The Dean Martin Christmas Show" in 1967.