Carol Channing, legendary Broadway actress, dead at 97, publicist says
Carol Channing, the legendary Broadway actress who portrayed Dolly Levi in "Hello, Dolly!" has died, her publicist said in a statement Tuesday. Channing was 97.
Channing died early Tuesday morning at her home in Rancho Mirage, Calif.
CAROL CHANNING REVEALS SHE REFUSED TO SAY THE F-WORD FOR LAUGHS
"It is with extreme heartache, that I have to announce the passing of an original Industry Pioneer, Legend and Icon - Miss Carol Channing. I admired her before I met her, and have loved her since the day she stepped ... or fell rather ... into my life," her publicist B Harlan Boll told Broadway World in a statement. "It is so very hard to see the final curtain lower on a woman who has been a daily part of my life for more than a third of it. We supported each other, cried with each other, argued with each other, but always ended up laughing with each other.
"Saying good-bye is one of the hardest things I have ever had to do, but I know that when I feel those uncontrollable urges to laugh at everything and/or nothing at all, it will be because she is with me, tickling my funny bone."
Channing would have turned 98 on Jan. 31.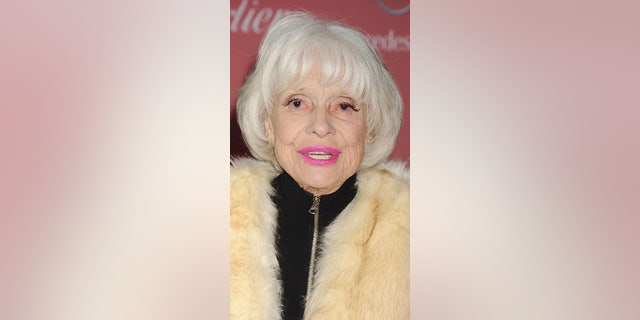 Channing, a Seattle native born on Jan. 31, 1921, got her start in the 1949 Broadway play "Gentlemen Prefer Blondes" alongside Yvonne Adair and Rex Evans. Years later, she would star in "Hello, Dolly!" and win the 1964 Tony Award for Best Actress in a Musical. The lanky, ebullient musical comedy star delighted American audiences over almost 5,000 performances as the scheming Dolly Levi in "Hello, Dolly" on Broadway and beyond.
Channing was also nominated for Best Actress in a Musical three other times, including in 1956 for "The Vamp," 1961 for "Show Girl" and 1974 for "Lorelei."
She would also appear on the silver screen in several movies, including "Thoroughly Modern Millie," "The First Traveling Saleslady" and "Skidoo." She was nominated for the Academy Award for Best Supporting Actress for "Thoroughly Modern Millie."
And before Beyonce, Katy Perry or even Madonna, it was Channing who was the first featured solo artist to appear during the halftime show at Super Bowl IV in 1970 in front of 80,000 people.
She performed again in 1972, making her the first Super Bowl repeat performer, a fact she discussed with Fox News in July.
"I am proud of it now, but at the time I certainly didn't know it was going to be that big of a deal," said Channing. "We just saw it as an opportunity to promote the current show. The result was very positive, so I did it again."
She continued: "I honestly can't offer a comment on any others who have participated since then… I never had time to watch. [But] those who are tapped to do the halftime show are very lucky and part of a very exclusive club… which I suppose makes me the matriarch."
CLICK HERE TO GET THE FOX NEWS APP
Later in her career, she was inducted into the Grammy Hall of Fame for her work on "Hello, Dolly!" and received a Tony Awards Lifetime Achievement Award for her work with the AIDS and Actors' Fund.
Speaking to Fox News in July 2018, the famed comedian said she had no regrets about her career.
Channing has seemingly done it all as a performer. Looking back, she has zero regrets. Instead, she is more interested in what the future holds.
"Regret leads to negativity and negativity kills creativity," said Channing. "Given the opportunity, I might change a choice I made, but you can't regret making what you thought was the best decision at the time."