Candace Cameron Bure: 'I'm not going to get naked, and I'm not going to have sex scenes'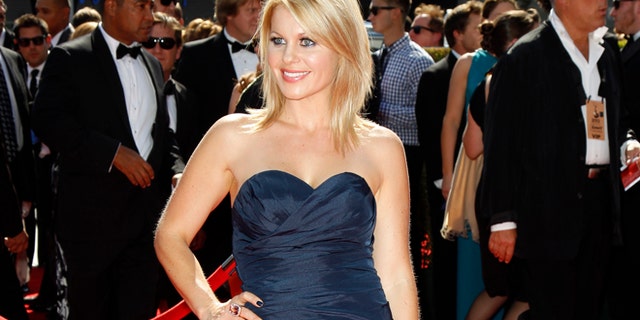 "Full House" may be long gone, but Candace Cameron Bure has held on to her squeaky clean image.
The now 37-year-old mother of three explained how she picks and chooses what roles are too racy for her to take on.
"What's very important to me is that it's family-friendly programming or there is some positive message, or something of value to take away from watching it," she told YourTango.com. "I have boundaries that my husband and I talked about and are both comfortable with… If you watch anything I do, you'll see I don't go beyond kissing someone. I'm not going to get naked, and I'm not going to have sex scenes."
Click here to read Candace Cameron Bure's entire interview from YourTango.com
She said her religion has helped maintain such a strong marriage. The actress has been married to hockey player Valeri Bure for 17 years.
"The best advice I've ever been given is being handed a Bible. That's the blueprint for marriage that we go by, and that's what our marriage is grounded in," she explained.
And while speaking about relationships, Bure also opened up about her co-stars, John Stamos and Lori Loughlin—a couple that could have been. Stamos recently garnered media attention when he said his TV-wife was the one that got away.
"Obviously, they had such great chemistry, but Lori's been married quite a long time, so I didn't think too deeply about it when he said that," she said. "If it had coordinated back in the day, [that would have been great]."
One couple that had a more dramatic relationship (to say the least) was her co-star Dave Coulier and Alanis Morissette. The '90s rock gal memorably penned the scathing song "You Oughta Know" about her "Full House" ex-boyfriend, something Bure revealed the cast poked fun at Coulier for.
"I remember listening to that song and thinking, 'This is such a cool song, I love this.' And I loved her whole album. I knew he'd been dating Alanis, and we teased him a little and never really got a straight answer from him."
Click here to read Candace Cameron Bure's entire interview from YourTango.com