Buddy Valastro's new Italian cookbook proves he's more than just the Cake Boss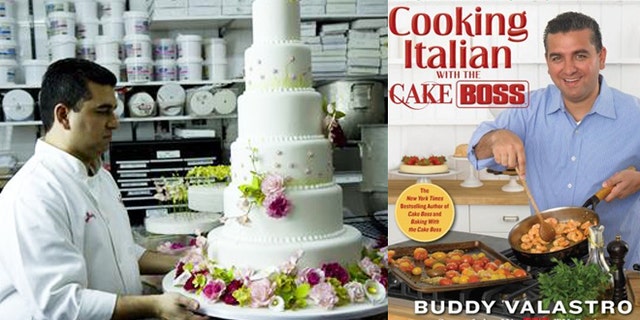 Buddy Valastro may be known as the star of the hit TLC show 'Cake Boss,' but he knows more than just desserts. He's also an adept cook who, not surprisingly, is a whiz at Italian dishes. The 35-year-old father of four has compiled all of his famiglia's recipes into, 'Cooking Italian with the Cake Boss.'
Buon Appetito!
FOX411: Tell us about the new cookbook.
Buddy Valastro: I'm very excited about it. It's got a lot of good family recipes in there. I was inspired by some of the great chefs that I grew up around. My mom, my grandma, my dad, my family and I compiled all the family recipes and put them in this book.
FOX411: What do you think is the secret of the success of 'Cake Boss'?
Valastro: I think at the end of the day it's a mix between family and creativity. The essence of my show is all about family, the ups and downs that families have, the pranks we pull, people relate to it.
FOX411: Why are Italian Americans so popular on T.V?
Valastro: I think we're real. People are intrigued when they see how true it really is. The good stuff we bring to the culture, the way we talk a little bit, we have a good time, we're full of life, we're pretty outspoken. It's a mix of everything.
FOX411: Do you do the seven fish dishes on Christmas Eve?
Valastro: Yes we do. Now my wife and my mother-in-law make it because we're busy in the bakery. A lot of my memories are of us cooking at the bakery. We had a lot of our traditions at the bakery. Part of why I wrote this book is you know how many grandmothers didn't give their family a recipe? Not because they didn't want to, they just never got around to it and then, 'Oh God I don't know how grandma made her eggplant parmigiana. I would like to make it like her.' I figured this book would be a good way to get people into this.
FOX411: You have four kids. Any fussy eaters?
Valastro: I definitely have fussy eaters. But like with the pasta and broccoli, at first we pulverize the broccoli and make it really mushy so they start to acquire a taste for it and then little by little you make it a little bit harder. Growing up I was a little fussy and I eat everything now, so I don't worry too much.
FOX411: Plans for any more kids?
Valastro: My daughter wanted Carlo (the baby) to be a little sister, but unfortunately as my wife says, 'The kitchen's closed.'
FOX411: You have four sisters. What do they do that drives you crazy?
Valastro: I would say everybody's got an opinion and there are certain things where you just know what you're doing, like decorating a cake. I don't need my four sisters to tell me, 'Oh this should be better.' I mean come on now, I am the cake boss, let me do my job, just be quiet.
Actually I've got a really good relationship with my family. We yell and scream once in a while, but for the most part we get along.
FOX411: Christmas must be a big deal in your house.
Valastro: It's always at my house. My wife does a marathon of cooking for two days. There's so much food. I'd love to lie and say we don't overcook or cook wastefully, but forget it. There's usually about 50 or 60 people at the house.
FOX411: Do you ever say, 'Ba da bing, ba da bang?'
Valastro: Of course I do!