Broadway star Barbara Cook dead at 89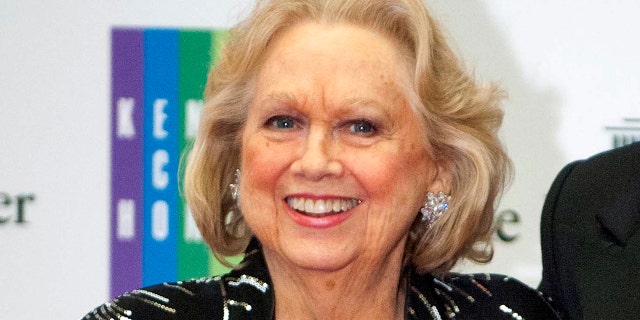 Barbara Cook, whose shimmering soprano made her one of Broadway's leading ingenues and later a major cabaret and concert interpreter of popular American song, has died. She was 89.
Cook died early Tuesday of respiratory failure at her home in Manhattan, surrounded by family and friends, according to publicist Amanda Kaus. Her last meal was vanilla ice cream.
Throughout her nearly six decades on stage, Cook's voice remained remarkably supple, gaining in emotional honesty and expanding on its natural ability to go straight to the heart.
On Broadway, Cook was best known for three roles: her portrayal of the saucy Cunegonde in Leonard Bernstein's "Candide" (1956); librarian Marian opposite Robert Preston in "The Music Man" (1957); and Amalia Balash, the letter-writing heroine of "She Loves Me" (1963).
Yet when Cook's pert ingenue days were over, she found a second, longer career in clubs and concert halls, working for more than 30 years with Wally Harper, a pianist and music arranger. Harper helped in shaping her material, choosing songs and providing the framework for her shows.
To celebrate her 80th birthday, she appeared with the New York Philharmonic in two concerts in November 2007 and then had a similar birthday salute in London. In 2011, she was saluted at the Kennedy Center Honors and remained a singer even in her 80s.
"Of course, I think I've gotten better at it," she said in an interview with The Associated Press in her Manhattan home in 2011. "I still think this is a work in progress. I do. Seriously. As the years go by, I have more and more courage to go deeper and deeper and deeper."
Born in Atlanta in 1927, Cook always hated vocal exercises, never had a vocal coach and had an effortless skill of creating beauty by just opening her mouth. "I don't remember when I didn't sing. I just always sang," she said in 2011. "I think I breathed and I sang."
Her father was a traveling salesman who sold hats; her mother worked for Southern Bell. Her baby sister died of pneumonia when she was 3 and her father left when she was 6. She was raised by her far-too-clingy mother, who blamed young Barbara for both the death and the abandonment.
Cook made her Broadway debut in "Flahooley" (1951), a short-lived musical fantasy about a mass-produced laughing doll. The show became a cult classic for musical-theater buffs, primarily because it was recorded, keeping its memory alive long after the production closed.
Cook then appeared in a pair of Rodgers and Hammerstein classics, playing Ado Annie in a City Center revival of "Oklahoma!" and then on tour in 1953. She followed that by portraying Carrie Pipperidge in a 1954 revival of "Carousel." It led to Cook's first original musical success, a yearlong Broadway run in "Plain and Fancy" (1955), in which she portrayed an innocent, unworldly Amish girl.
The following year, she starred in "Candide," which ran only 73 performances but later became a staple of opera houses around the world. In the musical, Cook got to sing "Glitter and Be Gay," a fiendishly difficult coloratura parody of the "Jewel Song" from Charles Gounod's "Faust."
Meredith Willson's "The Music Man" was Cook's biggest Broadway hit, opening in December 1957 and running for more than 1,300 performances. She won a Tony Award for her portrayal of the prim librarian who realizes Professor Harold Hill (Preston) is a con man selling band instruments and uniforms to the gullible residents of a small Iowa town.
Cook scored a personal triumph in "She Loves Me," a Jerry Bock-Sheldon Harnick-Joe Masteroff musical based on the film "The Shop Around the Corner." It told of two squabbling employees in a Budapest perfume shop who, unknown to each other, are romantically inclined pen pals. In the show, Cook sang a number extolling a gift of "Vanilla Ice Cream," which became a signature number for the performer when she began appearing in cabaret.
That turn began after her Broadway career withered in the late 1960s as Cook battled alcoholism and weight gain. In her 2016 memoir "Then & Now," Cook describes hitting rock bottom as a drunk: "I was so broke that I was stealing food from the supermarket by slipping sandwich meat in my coat pocket."
But she gave up drinking in the 1970s and, with the help of Harper, reinvented herself as a solo artist, working in small New York clubs and finally Carnegie Hall. Her first concert album, "Barbara Cook at Carnegie Hall" (1975), became a classic.
Cook and Harper, who died in 2004, worked methodically and carefully on her shows, mixing show tunes with standards not from musical theater. Often the programs were constructed around themes, specific composers such as Stephen Sondheim, lyricists such as Dorothy Fields, or directors such as Harold Prince and Gower Champion.
Sondheim became one of her biggest champions. Cook starred, along with Lee Remick, Mandy Patinkin and George Hearn, in a legendary 1985 concert version of "Follies" at Lincoln Center's Avery Fisher Hall.
And Cook was equally celebratory of Sondheim's work. In "Mostly Sondheim," her critically acclaimed revue of songs by the composer, the singer interspersed his own compositions with numbers he admires — everything from Harold Arlen tearjerkers to the earthy, jazz-flecked "Hard-Hearted Hannah."
Among Cook's other Broadway musicals were "The Gay Life" (1961), "Something More!" (1964) and "The Grass Harp" (1971), based on the Truman Capote novel. She also appeared in several plays on Broadway, most notably "Any Wednesday" in 1965 (as one of Sandy Dennis' replacements), Jules Feiffer's "Little Murders" (1967) and Maxim Gorky's "Enemies" with the Repertory Theatre of Lincoln Center in 1972.
Her marriage to acting teacher David LeGrant ended in divorce. Cook is survived by a son, Adam LeGrant.
When asked what her advice usually was to aspiring singers, she said it boiled down to three words that she learned early on herself and have been her guide.
"You are enough. You are always enough. You don't ever have to pretend to be anything other than what you are. All you have to do is deeply embrace who you are and you'll be fine," she said. "In life, aren't you drawn to the more authentic people? Of course. You're not drawn to phonies."