Brazilian model accuses singer Chris Brown of punching her in face; his publicist denies charge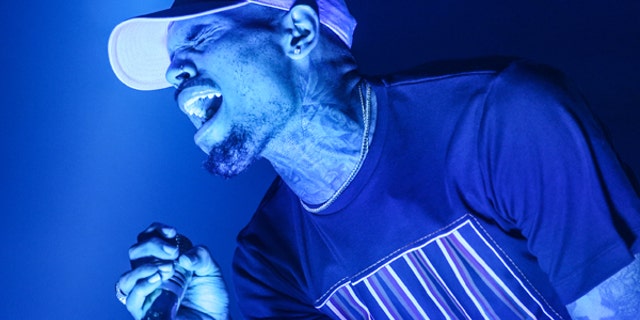 A woman who tried to snap R&B singer Chris Brown's photo is accusing the artist of punching her in the face at a Las Vegas party after he grew angry at her for trying to photograph him.
Authorities received a call shortly before 10:30 a.m. Saturday about the alleged battery at the Palms Casino Resort, Lt. Jeff Goodwin said. A police statement Saturday evening said an altercation took place in a room at the resort when the woman went to take a picture of Brown.
The woman said she was struck by Brown and that he had taken her cell phone, police said. Detectives tried to speak with Brown at his hotel room, but the singer left before police had arrived.
The gossip site TMZ identified the woman as Liziane Gutierrez, a Brazilian model. The TMZ story said "We're only identifying at her request."
TMZ said that Gutierrez said in an interview that she had snuck her cell phone into the private party.
A crime report has been taken for misdemeanor theft and misdemeanor battery listing Brown as a suspect, police said.
Nicole Perna, publicist for Brown, issued a statement Saturday night calling the woman's charges "unequivocally untrue."
The woman "was escorted out of the private after party at the Palms Casino Resort for being disruptive and out of control," Perna said. "Once she was in the hallway, while waiting for Chris Brown's security to bring out her phone, she had a total meltdown -- throwing her purse to the ground and claiming that she 'could buy everyone in the hotel' -- as witnessed by numerous people waiting to get into the party. The Palms Casino Resort security also saw her wild behavior via hotel security cameras and immediately came up to the hallway to escort her out of the hotel."
"Her claim that she had her phone in her possession inside the after party and was able to take a photo causing an altercation with Chris Brown is a complete fabrication," Perna said.
Brown performed Friday at Drai's nightclub at The Cromwell Las Vegas, where he appears regularly.
The Associated Press contributed to this report.
Like us on Facebook
Follow us on Twitter & Instagram