Leftist regimes in South America in retreat as area's economic crisis deepens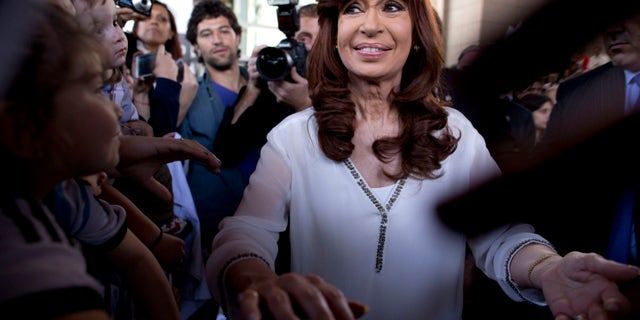 BOGOTA, Colombia (AP) – After a decade on the advance, the left in South America is in retreat.
Just in the past month, voters in Argentina elected a conservative businessman president over the chosen successor of Cristina Fernández de Kirchner and Brazil's congress launched an impeachment probe against President Dilma Rousseff, whose approval ratings have been languishing in single digits.
In perhaps the biggest turnabout, voters in Venezuela, where the region's leftward shift began, handed the opposition a landslide victory in congressional elections — its first nationwide legislative win since the U.S.-bashing Hugo Chávez won the presidency in 1998.
The backlash comes amid an economic downturn of the likes the region hasn't seen in decades. While all political dynasties are paying the price for broken economies and unchecked corruption, most of South America's governments are run by leftists who came to power as China's economy was taking off over the past 15 years, fueling demand for the region's raw materials.
Now that the Asian giant is struggling, prices for the region's copper, soy beans and oil have plummeted along with its currencies, taking with them the aspirations of millions of families that rose into the middle class on the back of the economic boom. At the same time, U.S. interest rates are rising again for the first time in seven years, adding pressure on borrowers already struggling to pay back dollar loans.
"What we're seeing now is a reminder that the political pendulum shifts in South America," says Colombian Senator Antonio Navarro Wolff, a former leader of the country's M-19 leftist guerrilla movement. "In the past decade it appeared to have stopped moving because the economic conditions were so favorable."
In Argentina, the pro-business mayor of Buenos Aires, Mauricio Macri, came from behind in the polls to win the presidency on a promise to undo many of Fernández's leftist policies, especially on the economy. In his first week on the job, he dismantled taxes on farm exports as well as currency controls blamed for a flourishing black market.
In Brazil, President Dilma Rousseff is fighting for her political life. Impeachment proceedings were introduced this month in congress over accusations she broke fiscal rules to cover up budget gaps for social spending. The probe comes against the backdrop of a shrinking economy and a widening corruption scandal at state-run oil giant Petrobras, including revelations of millions in payouts to close allies of Rousseff.
Polls indicate she's the least popular Brazilian president since the nation's return to democracy in 1985 following a long military regime.
But by far, the biggest risk of unrest is in Venezuela.
Following its victory in congressional elections, the opposition looks poised to challenge President Nicolás Maduro's increasingly fragile grip on power. Instead of letting his enemies share the political cost of painful reforms to fix triple-digit inflation and widespread shortages, Maduro so far is promising to double down on the statist policies that got Venezuela into its mess and to disregard what he calls the "bourgeois parliament."
Still, it would be a mistake to say the left has lost all of its oomph.
The Peronist movement that produced Fernández still holds a majority in Argentina's Senate, Rousseff's Workers Party remains Brazil's best-organized political faction and Maduro's allies garnered 33 percent of the vote in spite of an economy forecast to shrink as much as 10 percent this year.
Other leftist stalwarts in South America remain on more solid footing, including Ecuador's Rafael Correa, who enjoys a 52 percent approval rating even as his oil-dependent economy struggles to fight off recession.
Instead of a rightist revival, leadership may be splintering between pragmatists and ideologues, says Christopher Sabatini, an expert on the region who teaches at Columbia University. Even communist Cuba, long a touchstone of Latin America's left, has been looking northward in its attempt to overcome a half century of mistrust and conflict with the U.S.
Early evidence of that shift came at Macri's swearing-in ceremony. While an embittered Fernández and Maduro were notable no-shows, Correa and Bolivia's Evo Morales were both in attendance. Morales even played soccer with Macri, a former president of the popular Boca Juniors team, just hours after attending a farewell rally with Fernández and her supporters.
Conservative pols who traditionally trumpeted free-market policies have also embraced the left's legacy of social programs that tackle widespread poverty.
Macri went to great lengths during his campaign to make clear he would keep a safety net for the poor. Venezuela's opposition coalition, countering government allegations that it would auction the nation's wealth to the likes of the International Monetary Fund, said that one of its first legislative priorities will be granting property titles to the millions of families given free housing by Chávez.
Going forward, the center-right is promising to ease hostility toward Washington and use less of the global grandstanding that saw Chávez and Argentina expand ties with Iran. Instead they say they want to focus more on fixing their economies by bolstering fiscal and monetary controls, fighting corruption and restoring independence to courts and other institutions.
"The right has clearly learned its lessons," said Sabatini, who is also the director of Global Americans, a group promoting free trade. "While many people still believe the left, the economic crisis is so severe that more are more are willing to gamble on change."
Like us on Facebook
Follow us on Twitter & Instagram