BET Awards Honor Michael Jackson's Legacy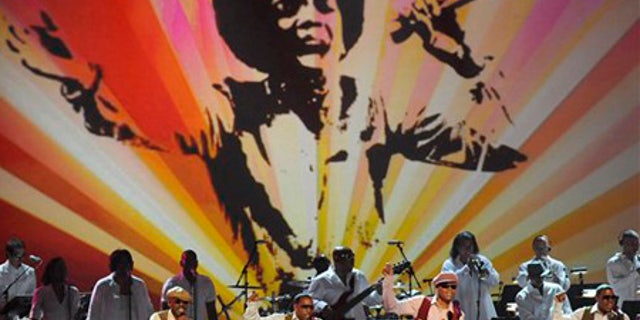 LOS ANGELES – While BET celebrated the life of Michael Jackson the entertainer, Janet Jackson — in her first public appearance since her brother's shocking death — memorialized him as her beloved sibling and family member, eliciting tears as she vowed his memory would live forever.
"To you Michael is an icon," said Jackson, holding back tears at Sunday's BET Awards. "To us, Michael is family and he will forever live in all of our hearts. On behalf of my family and myself, thank you for all of your love, thank you for all of your support. We miss him so much, thank you so much."
Afterward, Ne-Yo and host Jamie Foxx performed a somber version of the Jackson 5 classic "I'll Be There," as photos of Jackson flashed across the screen.
It was a stirring emotional highlight for a show that was completely revamped to recognize the legacy of Jackson, who died Thursday at age 50. While awards were still doled out, the show's main focus was to pay tribute to the man who shaped the careers of every entertainer who walked the stage that night.
Joe Jackson, the singer's father, was also hand to represent the grief-stricken family. "I just wish he could be here to celebrate himself," he said before the show. "Sadly, he's not here, so I'm here to celebrate for him."
And for the most part, it was a joyous wake.
"No need to be sad. We want to celebrate this black man," said Foxx, who kicked off the show with a re-enactment of the choreography from Jackson's iconic "Beat It" video in front of the star-studded crowd, on its feet from the start of the show
Already an affair of major star wattage, the night's show at the Shrine Auditorium was thrown under a white-hot spotlight in the wake of Jackson's death, adding attendees and guests, doubling the number of media requests, adding an extra half-hour to the telecast and even lengthening the red carpet to accommodate all who wanted to take part.
Backstage, Ciara recounted talking on the phone with her idol and her regrets that she never got to meet him. As she talked, she started to cry. "He meant so much to me," she said through tears.
While Jackson's incredible influence stretched across genres, races and cultures, he had a unique place in the world of black entertainment. His influence is arguably most visible in urban music, seen in stars like Usher who mimic his dance moves, to Ne-Yo, whose music is marked by its Jackson-isms. But that influence went beyond music: Jackson was black America's biggest star, who broke racial barriers that allowed for so many other superstars to follow.
"Michael Jackson was so important to our world, to our country, to this network," said BET Chairwoman Debra L. Lee. "Michael was truly a musical diety."
Producers of the annual awards show — which recognizes the best in music, acting and sports — revamped the show to meet the moment. While Beyonce and T.I. were the leading award nominees with five apiece, giving out trophies was an afterthought: Honoring Jackson was became the show's main focus.
While some performed their own hits, most made sure to incorporate some of the man who influenced them in their performances. A chant of "Michael Jackson, Michael Jackson" was heard while Keri Hilson performed, and Foxx's "Blame It" incorporated some of the Jacksons' dance hit "Blame It On the Boogie."
Throughout the night, Foxx also regularly turned up in some of Jackson's signature looks, like the wide-collar black leather outfit from "Billie Jean."
New Edition, the 1980s teen sensations who were considered that generation's Jackson 5 with their own version of bubble-gum soul, ran through several of the Jackson 5's greatest hits, from "I Want You Back" to "ABC," mirroring their idols right down to the group's original choreography. Ne-Yo sang one of Jackson's most sensual songs, "Lady in my Life."
"He's the man who made it possible for me to be on the stage; I love you and I miss you," he said later.
Ciara sang Jackson's humanitarian anthem, "Heal the World," dressed in a jacket that had Jackson's signature military epaulets.
And winners acknowledged Jackson when they received their awards.
"This is for you, Michael Jackson," said Beyonce, as she held her trophy for best female R&B artist skyward. "I have to thank Michael for being my future and my hero."
"We all know none of us in this in this room wouldn't be here for Michael Jackson," said Lil Wayne, as he picked up his award for best male hip-hop star.
"My heart and prayers go out to the whole Jackson family," said basketball star LeBron James, who won best male athlete.
Not every moment had the stamp of Jackson. Foxx resurrected his "In Living Color" character Wanda and paired it with another cross-dressing classic character, Martin Lawrence's Sheneneh, for a hilarious parody of an "upcoming movie": "Skank Robbers."
Beyonce gave a simultaneously sexy and angelic performance of "Ave Maria"; Ne-Yo brought out some of the hitmaking male R&B acts of the 1980s and 1980s, from Bell Biv Devoe to Guy. But even without a direct Jackson reference, there was usually a Jackson connection, as all of those artists counted Jackson as an inspiration. And Eddie Levert of the classic R&B group the O'Jays talked about how much he'd miss Jackson even as his group was honored with a lifetime achievement award.
Other performers incorporated some of the man who influenced them in their performances. A chant of "Michael Jackson, Michael Jackson" was heard while Keri Hilson performed, and Foxx's "Blame It" incorporated some of the Jacksons' dance hit "Blame It On the Boogie."
Jackson connections were inescapable: Even the building where the ceremony took place, the Shrine auditorium, was where Jackson's hair and scalp were burned during the filming of a Pepsi commercial in 1984. It was also the location for several of his Grammy and American Music Award performances.