'Bachelorette' Recap: Emily Maynard picks a prince, breaks a heart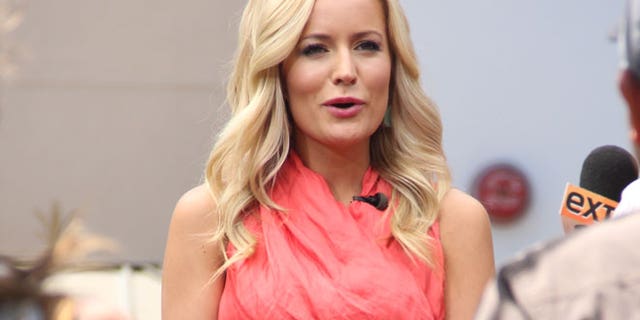 The season finale of ABC's "The Bachelorette" Sunday was unlike any other of its kind.
Contrary to the proposals that took place on dramatic mountaintops or cliffs overlooking the ocean in seasons past, the climax of this season's last episode took place on a quaint street corner in the Caribbean island of Curacao.
And on that corner, southern belle Bachelorette Emily Maynard said yes – to Jef Holm, a 27-year-old entrepreneur from Utah, who remained a consistent frontrunner for his edgy style and witty personality throughout the season.
"I'm so grateful that you came here and put your heart on the line one more time," Jef said. "What I'm about to ask you aren't just empty words. What I'm about to ask you is a forever thing."
Jef then dropped down to one knee with a Neil Lane diamond and popped the question, to which the blonde beauty responded: "Yes."
The underlying theme of this season involved Emily's 7-year-old daughter, Ricki, whom she gave birth to shortly after the sudden death of her fiancé, NASCAR driver Ricky Hendrick. Emily stressed to the contenders throughout the season that this was not just about marriage, but about completing her family.
So, it only seemed fitting that little Ricki rushed around the corner following Jef's proposal to her mother and joined the pair, walking down the street hand in hand into the distance.
But, the episode was far from smooth sailing.
Click here for more Emily photos from X17 Online
Although Jef and runner-up Arie Luyendyk Jr. were both well received when meeting Emily's parents, the Bachelorette's date with Jef in which she let the suitor meet Ricki for the first time sealed the deal.
In a teary conversation injected into the middle of the show, Emily disclosed to host Chris Harrison that she had already made her decision. No final date was necessary with Arie, and she was going to spare him the embarrassment of proposing by sending him home a day early.
"It's just not fair to him," Emily said choking up. "As much as I love him, I've fallen in love with someone else just a little bit more."
The Bachelorette headed to her date with Arie to send him home – Arie didn't see it coming.
"Tomorrow, I'm getting engaged," he said beaming in his testimonial, as he completed a love potion with a local resident to give to Emily.
No, seriously.
"I feel like when I tell her I love her I can see it in her eyes," he said.
Emily's expression upon her arrival quickly shed light on her decision.
"I don't know what to do and I don't know what to say," she said sobbing. "For so long I thought it was going to be me and you."
"Thank you for sparing me the embarrassment tomorrow," Arie responded sarcastically before walking away. "I appreciate that."
Emily was able to sit down and speak with Arie on Monday, however.
In another new move, "The Bachelorette" finale featured a live "After the Final Rose" special – instead of its typically pre-taped version – which aired immediately after the finale.
In a sit-down interview, Arie said that speaking with Emily and Jef on the phone after taping was over helped with his healing process.
"Just hearing how they were doing helped to give me closure," he said.
Next, Jef was finally able to join Emily on stage for their first public appearance.
"He inspires me to do better and he makes me laugh," Emily said, never letting go of her fiancé's hand.
"She's the most amazing girl in the world," Jef said. "We're so perfect for each other."
"And now that everyone knows…" he added, grabbing Emily and going in for a long kiss.
The couple announced that Jef is going to move to Emily's hometown of Charlotte and get his own apartment, as they begin to plan their wedding.
Emily did not give a specific time frame, because "people will hold [them] to it."
"But I would like a spring wedding," she said smiling.
"Bachelor" fans get no break from the franchise, with the new season of "Bachelor Pad" kicking off Monday at 8 p.m. on ABC.