Ashton Kutcher/Katherine Heigl Film 'Killers' Won't Be Reviewed Until Opening Day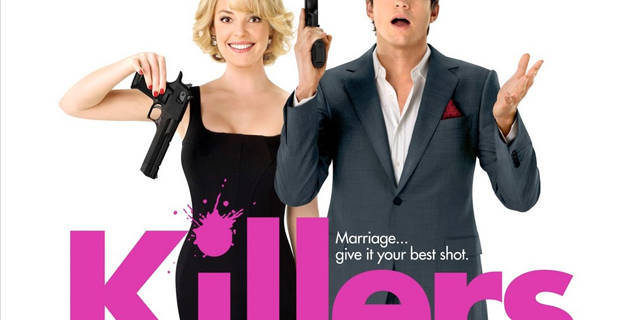 You've probably seen the billboards, bus-stop ads and television spots for "Killers": They're everywhere, featuring Katherine Heigl and Ashton Kutcher juggling guns and bantering over super-secret identities.
But critics won't see the film before it appears in theaters, part of a growing strategy in Hollywood that relies more on social networking to promote new releases instead of riskier movie reviews.
Lionsgate, which is releasing the action comedy, has planned what's known as a "courtesy screening" for critics the morning of June 4, the day the film opens. It's a tactic studios normally use when there's a guaranteed niche audience, such as for horror movies or ones based on video games – the logic being that fans of the genre will show up, regardless of reviews.
But "Killers" is a mainstream romantic comedy with two A-list stars and a production budget of about $70 million – which is high for Lionsgate, known for the Tyler Perry movies, the "Saw" series and the Oscar-winning "Precious: Based on the Novel `Push' by Sapphire." Robert Luketic, who previously worked with Heigl on last summer's critically savaged "The Ugly Truth," is the director.
This time, the studio said it would rather have viewers decide for themselves whether the movie is worthwhile, then write about it on Twitter or Facebook.
In "Killers," Heigl stars as a lovesick woman who thinks she's found the perfect man in Kutcher's character, only to discover his secret life as an international assassin once they've married and moved to suburbia.
"We want to capitalize on the revolution in social media by letting audiences and critics define this film concurrently," Lionsgate said in a statement late Wednesday. "In today's socially connected marketplace, we all have the ability to share feedback instantly around the world. In keeping with this spirit, Lionsgate and the filmmakers want to give the opportunity to moviegoing audiences and critics alike to see `Killers' simultaneously, and share their thoughts in the medium of their choosing. We felt that this sense of immediacy could be a real asset in the marketing of `Killers.'"
Paramount Pictures similarly refrained from showing critics its big-budget "G.I. Joe: The Rise of Cobra" last year, saying it wanted regular folks to define it instead. The studio intentionally aimed the blockbuster at the heartland, at cities and audiences outside the entertainment vortexes of New York and Los Angeles.
But Paramount also acknowledged the decision was driven by the disparity between the overwhelmingly negative reviews "Transformers: Rise of the Fallen" received earlier that summer and its domestic gross of over $400 million. "G.I. Joe" received just 28 percent positive reviews on the Movie Review Intelligence website but it made over $150 million domestically.
There's usually no need to withhold movies from critics, regardless of the genre, said Brent Simon, president of the Los Angeles Film Critics Association.
"The studios are operating under the false premise that critics somehow hate genre films, that they're not going to give them a fair shake, and empirically that's simply not proven out," said Simon, a critic for Screen Daily.
For example, Lionsgate didn't screen the Jason Statham action sequel "Crank: High Voltage" before its opening last year and it still received 62 percent positive reviews on the Rotten Tomatoes website.
"I feel like they don't really have their finger on the pulse of the fan community," Simon said. "For people who are really into films, what the Internet has done – through message boards and a plethora of other sites that report on film – is it's opened up this world whereby they're able to see not only the goings-on of production but also of marketing. So when there are no reviews of a film the week of release, that message gets out there.
"It doesn't really matter what their interests or predilections are as far the types of films they're interested in, but people smell a stinker," he added. "They take that into account and it's a potential strike or demerit on a film."