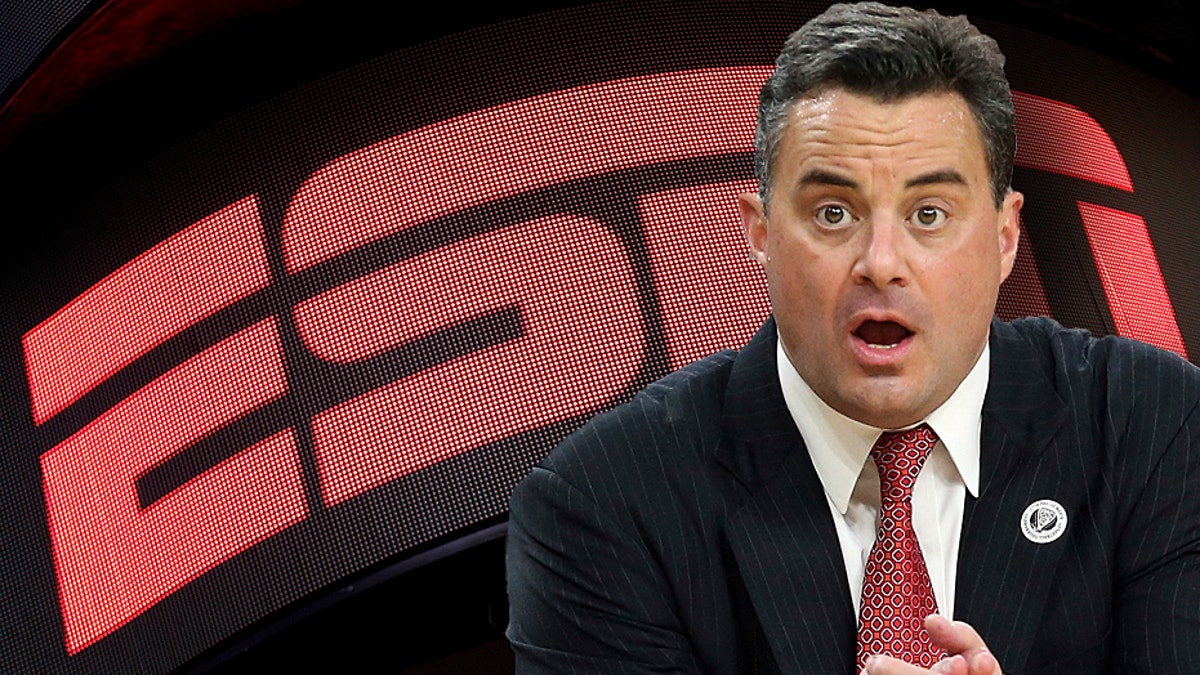 Things could get awkward on ESPN as the NCAA Tournament unfolds if the Arizona Wildcats make a run toward the Final Four.
ESPN reported late last month that Arizona head men's basketball coach Sean Miller "discussed paying $100,000 to ensure star freshman Deandre Ayton signed with the Wildcats." Citing "sources familiar with the government's evidence," ESPN's Mark Schlabach reported that Miller was caught on FBI wiretaps discussing the transaction.
Miller, a three-time Pac-12 Coach of the Year, sat out a game as a result of the report but then denied any wrongdoing. He returned to his team after the brief absence and issued a statement expressing confidence he will be "vindicated."
ESPN reported that Miller told a sports agent to "deal directly with him" when it comes to money," citing people with knowledge of the FBI investigation.
Questions arose about the ESPN bombshell's timeline and Schlabach made corrections to its original story. Despite Miller's claim that he is innocent and many ESPN critics defending the head coach, the World Wide Leader hasn't backtracked its reporting.
"We stand by our reporting," an ESPN spokesman told Fox News.
Meanwhile, Ayton has emerged as one of the best players in college basketball and a big reason why Arizona is a No. 4 seed in the NCAA Tournament with a legitimate shot to advance to the Final Four.
While the tournament games aren't on ESPN, the all-sports network spends significant time analyzing the results. Outgoing Sports Illustrated media columnist Richard Deitsch thinks that ESPN will take a business-as-usual approach, but fans won't forget the uncomfortable situation.
"I imagine ESPN will cover Arizona's play in the tournament as they do every other tournament team but clearly the Sean Miller report will be in the back of viewers' minds given ESPN's reporting," Deitsch told Fox News.
Deitsch feels it would be wise for ESPN to "acknowledge their news reporting amid game recap and say they stand by it… rather than run from it," as that has been the network's stance amid others questioning it.
"If Arizona makes a long run, it's going to be interesting subplot because there are many unanswered questions surrounding this story," Deitsch said.
Meanwhile, Miller's contract contains language that gives Arizona financial motivation to back its head coach. If he is fired with cause, the school would still have to pay his base salary, according to ESPN.
"In a strange twist, Miller's contract somehow pays him more for getting fired with cause than without cause," Schlabach wrote, noting that he coach can pocket over $10 million through 2022 if he's terminated.
"I regret all the negative attention that has been focused on our program," Miller recently told reporters. "While I have done nothing wrong, I am responsible for our men's basketball program and I have been sickened that we are in the spotlight for all the wrong reasons. I have never knowingly violated NCAA rules while serving as coach of this great program. I have never paid a recruit or prospect."
Arizona's tournament kicks off on Thursday night with a first-round matchup against the University of Buffalo. Miller's Wildcats aren't the only team that could have potentially violated NCAA rules, as Yahoo has mentioned several teams in the tournament including Duke, North Carolina, Texas, Kentucky, Michigan State and Alabama.
Ayton, the Arizona superstar at the center of the ESPN report, is widely expected to leave school early to be the No. 1 overall pick in the upcoming NBA Draft. He has not missed a game as a result of the report.