Ariana Grande defends Justin Bieber's fast engagement and her own speedy romance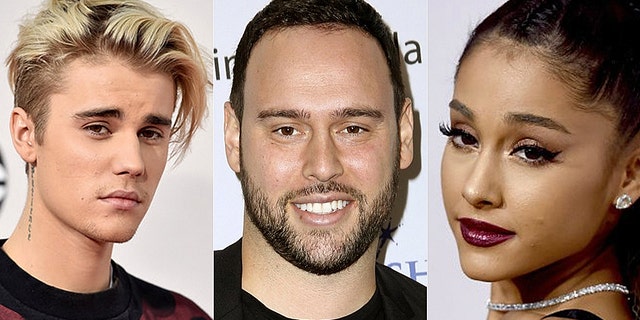 Ariana Grande on Sunday defended her fast engagement to Pete Davidson and reports of Justin Bieber's fast proposal to Hailey Baldwin after a fan criticized their manager Scooter Braun.
Grande tweeted, then quickly deleted, her defense shortly after TMZ reported Bieber and Baldwin got engaged Saturday during their romantic getaway to the Bahamas.
"First Ariana get engaged to Pete Davidson and now Justin Bieber to Hailey Baldwin...the devil works hard but Scooter Braun works harder," a fan wrote on Twitter.
Braun, for those unfamiliar, is the talent manager of both Bieber and Grande.
Grande later replied: "You do realize we are human beings who love and have lives...right...? And that Scooter is a wonderful human being too who cares first n foremost ab our health and happiness?"
"Love is lit. S--- happens. I hope to God it happens to you too. U deserve it," she added.
JUSTIN BIEBER REPORTEDLY ENGAGED TO HAILEY BALDWIN
The 25-year-old singer also asked fans to leave Braun alone because he was "on vacation [with] his beautiful family." Braun is in Italy to attend a wedding.
Grande ultimately deleted the Twitter exchange, but kept a tweet saying, "okay okay be nice to that man [Braun]. he's wonderful. and very human. always puts his artists' health and happiness first."
ARIANA GRANDE RESPONDS TO FIANCÉ PETE DAVIDSON'S MANCHESTER JOKE
Fans began drawing comparisons on Sunday between Bieber and Grande, who got engaged to Davidson last month after just weeks of dating. Bieber popped the question to Baldwin after the duo rekindled their romance and were spotted together a few weeks ago.
Bieber and Baldwin have not commented on reports about their engagement.
Braun also did not comment on Bieber's engagement.