Anti-Trump pundit Jemele Hill officially leaves ESPN: 'The time has come for me to begin a new chapter'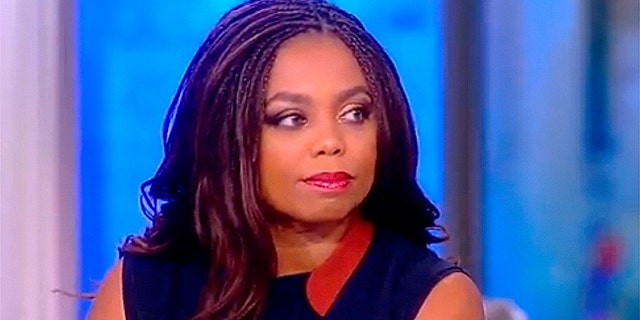 Anti-Trump ESPN pundit Jemele Hill is officially leaving the network after months of speculation about her future, the former "SportsCenter" anchor announced on Twitter on Friday.
"The time has come for me to begin a new chapter in my life," Hill tweeted before signaling out a group of people she wanted to thank, including former ESPN president John Skipper — who left the network last year when a drug dealer attempted to extort him by using his cocaine habit against him.
ESPN executive vice president Connor Schell tweeted a statement calling Hill "an exceptionally talented writer, storyteller, host and commentator."
Hill famously called President Trump a "white supremacist" on Twitter last year, which put a spotlight on what many critics feel is a liberal bias at ESPN. She also called Trump a "bigot" and "unqualified and unfit to be president."
She added, "If he were not white, he never would have been elected."
The now-former ESPN star's comments caught the attention of the White House and press secretary Sarah Sanders, who said she considered the rhetoric a "fireable offense." Trump even got involved himself, mocking Hill and ESPN's lackluster ratings.
ESPN initially declined to punish her for the tweet but then sidelined her for two weeks in October 2017, after she violated the company's social media guidelines again. This time she called on fans to boycott the Dallas Cowboys' advertisers after owner Jerry Jones told players they would be benched if they did not stand up during the national anthem.
Earlier this year, ESPN reassigned Hill from its flagship SportsCenter to a new role at The Undefeated, the company's site that covers the intersections of sports and race.
In July, Hill hinted at leaving ESPN and described her intent to eventually walk away from sports altogether to create content about "women of color" and to help dismantle institutional racism.
"It feels very much like this next iteration of my career will be more about me being behind the camera, creating content, writing scripted and unscripted shows and movies than it will be in sports," Hill said during an in-depth conversation at OZY Fest.
Last month The New York Post reported that she would leave the network and that a buyout of a $2.5 million-per-year contract had been finalized. The Post also noted Hill's desire to be involved in politics.
New ESPN president James Pitaro has attempted to put an end to talks that the network leans left politically.
"I will tell you I have been very, very clear with employees here that it is not our jobs to cover politics, purely," Pitaro recently told reporters.
Under Skipper, the network was accused of spending too much time covering Colin Kaepernick's protests and was criticized for awarding the Arthur Ashe Courage Award to Caitlyn Jenner. Far-left voices were rewarded with high-profile gigs, while conservative personalities such as Curt Schilling were silenced (Schilling was fired in 2016 after sharing a Facebook post regarding the North Carolina law that banned transgender people from using specific bathrooms).
The network still employs anti-Trump former MSNBC star Keith Olbermann, but he's stayed relatively quiet when it comes to spouting political opinions since ESPN announced his expanded role under Pitaro.
Fox News' Amy Lieu contributed to this report.