Another singing 'Voice' challenges 'Idol' ratings supremacy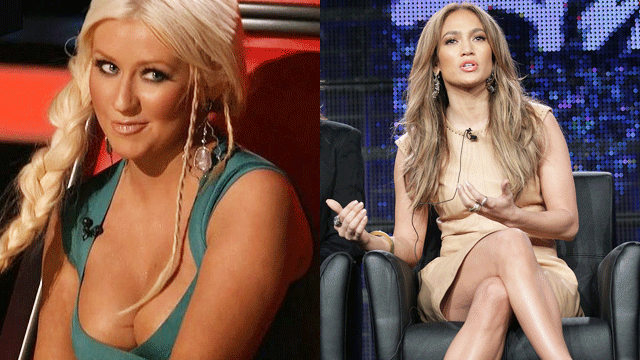 How many singing competition shows can America watch each week?
That's the question being asked now that NBC's "The Voice" has started its second season with a bang, while Fox's long-running "American Idol" has seen its ratings decline.
"It's still very early on for 'The Voice,' but they got a great start coming out of the Super Bowl with 37.6 million viewers," media analyst Brad Adgate of Horizon Media told Fox411.com. "The most watched 'American Idol' was the finale between Clay Aiken and Ruben Studdard in 2003, with a little over 38 million viewers."
The second evening of "The Voice" then brought in 17.8 viewers, a number that doesn't include viewers who recorded the show and watched it later.
Meanwhile, the 11th season of "Idol" is averaging 20.6 million viewers, which, while impressive, is down 19 percent from the same period last year, when the show averaged 25.3 million. (Those figures factor in viewers who watched on digital recording devices.)
"'Idol should be a little worried. They are in their 11th season. Last year there was renewed interest in the show with the new judges, but they have sort of settled into their routine, and the bloom is off the rose again," says Lyndsey Parker, managing editor of Yahoo! Music.
So while "Idol" still rules the ratings roost over "The Voice," it hears some loud footstpes approaching. Adgate noted that "Idol" saw a ratings climb in Season 2, once viewers knew what they were in for, and he's "sure that NBC is banking on the same thing happening for 'The Voice.'"
A Fox rep pointed out that even if "Idol" fell from the number one slot to number two, the network will still be pleased to have a show with such strong numbers on for so many hours a week. And "Idol" producer Nigel Lythgoe told reporters at a Tuesday press briefing that he was "thrilled" with this season's ratings, noting that after 11 years, "there's going to be some kind of deterioration. I don't think we should be defending ourselves."
Lythgoe also got in a dig at the competition, saying "The Voice" was too "gimmicky ... and in need of stronger talent."
Still, some TV and music experts say "Idol," for the first time, should begin getting a tad nervous.
"'The Voice' will make 'Idol' sweat a little this year. But I don't think 'Idol' is in danger just yet," said MTV.com senior writer Gil Kaufman. "They are still the highest rated show on television, since they are still your grandma's favorite show."
Kaufman compared "Idol" to televised comfort food, while "The Voice" is like a new sports car. "It's a little shinier and a little faster," Kaufman said, adding the real issue is that most viewers do not have the time to devote to four nights of signing competition. (Each show airs twice a week.)
"This could be the year that 'The Voice' could peel away some of those 'Idol' viewers who have been ready to walk away," he said.
The real showdown will come later in the season — after the Super Bowl bump fades for "The Voice" and "Idol" gets past its audition rounds.
"The test will be once they go to live shows. Where will the audience numbers go?" says Phil Gallo, Billboard's senior correspondent for film and television. "Idol has a certain number of people who come out and watch the audition shows and it is always the same thing. The advantage for 'The Voice' this season is that this might be the first time people are seeing their audition rounds, and 'The Voice' is still fresh."
That means that this season, more than ever, it is important for "Idol" to make its Hollywood rounds, when the finalists are chosen, as captivating as possible.
Lythgoe says not to worry. He says this year's Hollywood rounds will be "extremely dramatic"
Just like the competition between his show and "The Voice."