Anne Hathaway, Stephen Colbert poke fun at actress' cheesy first-ever commercial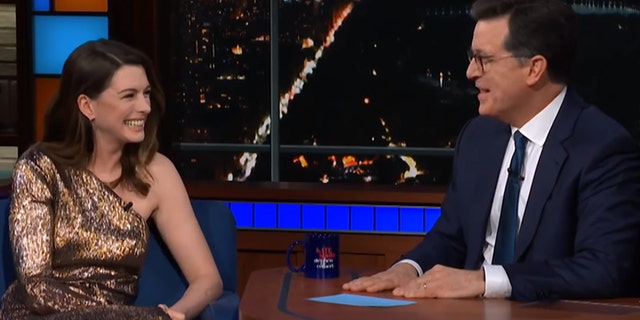 NEWYou can now listen to Fox News articles!
Award-winning actress Anne Hathaway has starred in a number of hit films, but recently the actress took the time to look back on her TV commercial days.
Hathaway appeared on Thursday as a guest on "The Late Show with Stephen Colbert," where the TV host took the actress on a walk down memory lane.
Colbert recalled a list of some of Hathaway's most iconic roles, including "Princess Diaries," "Devil Wears Prada," and her Academy Award-winning film, "Les Miserables." But the host managed to dig up footage from the star's very first on-camera role.
"I got a Better Homes and Gardens commercial when I was 14," Hathaway said. "And that was my first on-screen job."
The actress then joked that her 14-year-old face looked like that of a potato and a chipmunk rolled into one before Colbert played the tape.
In the commercial, a forlorn Hathaway sits on the steps of her big white house while saying goodbye to her boyfriend, who has just told her that he and his family are moving away.
The boyfriend tries to cheer up his sad girlfriend and says that they will at least have the summer together before he has to move because selling a house takes forever. But not if your home is a Better Home and Gardens home.
A placard that reads "Better Home and Gardens" is placed outside of the boyfriend's home and that's when Hathaway's character knows that they won't have the summer together after all.
"Goodbye, I'll miss you," she cries before the commercial ends.
After viewing the commercial, Hathaway laughed and said to Colbert, "I am very grateful for that commercial because that paid for my first year of college. It ran for a long time."
Colbert then switched gears to the star's new film, "Ocean's 8," which is the female version of the original "Ocean's 11" heist films starring George Clooney and Brad Pitt.
The new film follows Debbie Ocean, played by Sandra Bullock, as she assembles an all-female team to help her steal a $150 million diamond necklace from the annual Met Gala. Hathaway, who dons the pricey piece of jewelry to the fashion gala, is the target.
The action flick also stars Cate Blanchett, Sarah Paulson, Helena Bonham Carter, Mindy Kaling and Rihanna.