Androgynous male model dominates fashion week runways as both a man and a woman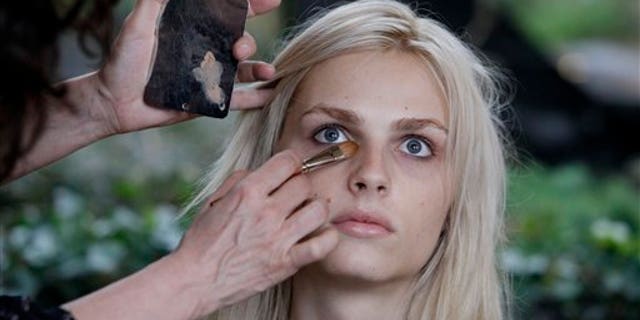 On a chilly winter afternoon, Andrej Pejic settles into a Manhattan cafe with a cup of Earl Grey tea, sitting gracefully, long legs crossed. The blue-eyed fashion model gazes out a window, unaware that almost every man sitting at surrounding tables is transfixed.
A man in a black leather jacket walks up to the window, presses his face against the glass and kisses it. Pejic giggles and admits: "I find it flattering."
The admirers are likely unaware that the beautiful blonde is actually a man.
As Fashion Week gets under way in New York City, Pejic is one of the most recognizable -- and controversial -- faces in the industry. He's the only top-tier fashion model who can walk down the runway as either a man or a woman. And his androgynous beauty has turned him into a trendsetter in an industry that's always seeking to push the envelope.
"He's just this beautiful thing that everyone wants a piece of," says stylist Ken Anderson, who dressed Pejic for a German magazine cover.
He has the kind of face that makes even the vainest woman jealous: high cheekbones, flawless skin and plump, shapely lips. When he speaks, his ever-so-slight Adam's apple is the first sign of his masculinity.
Though Pejic isn't trying to be a woman, many in the transgender community have already claimed him as their own. He is seen as a bit of a maverick, someone who has embraced his sexuality without any need for explanation or justification. Last year, the gay and lesbian magazine Out named him "stylemaker of the year" and put him on its cover wearing a bridal veil and flowers in his hair.
Pejic graced the covers of 14 magazines last year alone, including an ad campaign for a Dutch push-up bra. In 2011, he was the face for a fashion line by designer Marc Jacobs. He has walked the runways for heavyweight designers, including John Galliano and Jean Paul Gaultier.
French designer Gaultier was so enamored with Pejic that he used his gender-bending look as a source of inspiration for his 2011 men's and women's wear shows, both of which Pejic modeled in. In the Gaultier men's show, a pistol-packing, bare-chested Pejic wore a sleek black suit as "James Blonde."
That was a stark contrast to the women's show, where Gaultier crowned Pejic with the prized piece in the women's wear collection: a couture bride's dress.
French photographer Sebastien Micke, who has photographed transgender models, says Pejic's femininity is effortless.
"Andrej's got this thing that supermodels have: how to pose in front of the camera," Micke says. "It's just natural."
But life hasn't always been so easy or glamorous for the 20-year-old. Born in Bosnia, Pejic spent much of his childhood living in a Serbian refugee camp before his family fled the country for Australia. He was discovered by a talent scout while working at a McDonald's as a teenager.
From an early age, Pejic exhibited qualities thought of as traditionally feminine, for instance, preferring Barbie dolls over toy cars. As a teenager, he often hung out with girls and was once busted for stealing makeup from a drugstore. Pejic says acceptance from his friends and family made him comfortable in his own skin.
"I'm lucky in that sense," he says. "If I had big muscles and were hairy with a beard, I might not be comfortable with that."
At 6-feet-1, he's rail-thin, a women's size 2 or 4. His shoe size is the most problematic. Technically a women's size 11, he's forced to squeeze his feet into a size 10 to walk in women's shows.
Gene Hogan, a representative at DNA models, the agency representing Pejic in the U.S., says dozens of calls pour in every week touting a slew of hot new androgynous models: "They say, `Oh, you've got to see this guy! He's the black Andrej Pejic!"'
For Pejic, every fashion season brings a new surge of headlines and opportunities, including talks of a fragrance line or a possible reality TV show. With New York Fashion Week -- when designers debut their fall collections -- beginning Thursday, it's unclear which shows he will walk in -- if any at all.
With the frenzy of media attention over the past year, industry insiders say Pejic runs the risk of being overexposed. Given his very niche look, Pejic's ability to stay relevant may become difficult. And as his star rises, it's possible designers could hesitate to book him, fearing his persona may overshadow the clothes.
Pejic is all too aware of the fickle nature of the fashion business. He plans to attend college eventually, having deferred his acceptance to a university in Australia. If fashion doesn't work out, he'd like to go back to school and major in economics or law.
Although open to discussing almost anything, Pejic remains secretive about his sexual orientation. When asked whether he prefers men or women, he coyly smiles.
"Love has no boundaries," he says.