'America's Got Talent' recap: Singers soften a tough judge's panel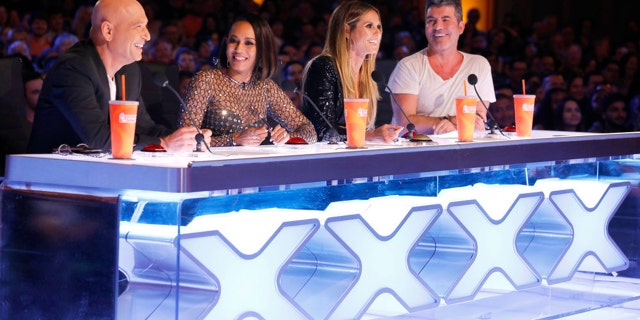 It's all come down to this, the final round of judge cuts on "America's Got Talent." With 20 acts competing for the seven remaining spots, the judges were more unforgiving than ever before.
This week, to help the judges break any ties in their final decision, Grammy award-winning performer, and ex husband to Hedi Klum, Seal joined the panel. In addition to helping decide who is going to go through to the next round, he was gifted the highly coveted Golden Buzzer, which he used to send one unsuspecting act to the next round without debate. However, it wasn't exactly a night of positivity as there were significantly more negative buzzes than anything else.
The night started off strong, with the young dancing duo Artyon and Paige. They got things going, but it wasn't exactly the giant show opener that the judges needed to get them in the mood to see some talent. The musical a cappella group from the U.S. military, In the Stairwell came next. They received a tepid response from the panel in their first audition, and while they showed marked improvement, the night needed a big win. Sadly, it would be awhile before it came.
'AMERICA'S GOT TALENT' RECAP: 9-YEAR-OLD SINGER STUNS AGAIN
Seal, with the help of a moody Simon Cowell, cut down a couple more singers before the magicians took the stage. Visualist Will Tsai went first. Simon called his one of the best acts they'd seen this year, but that acclaim was short lived. Tsai took the stage and failed to top his first performance and Simon let him know it.
Just when it looked like things were impossible for any performer, young Henry Richardson took the stage for some closeup card tricks. While magically putting a card inside a Pop-Tart is impressive in its own right, it's the young man's charm and stage presence that really won over the judges. Thanks to him, the night was saved… for the magicians at least.
Sadly, Simon's reign of terror was far from over, as he continued to be disinterested in everyone that took the stage. When Elena and Sasha, a high balance act took the stage, Sasha climbed to the top of a pole and popped a balloon using a bow and arrow with her feet. It felt like a successful encounter, but Simon was quick to note that, while she popped the balloon, she missed the bullseye.
It wasn't until the odd Swedish group Sirqus Alfon had their turn that things started to lighten up. Their success on stage was surprising, as Simon previously called them the worst act that "AGT" had literally ever seen. They utilized the big screen in a completely different way, engaging the audience and judges in a 30 second dance that they then synced to music. When it was all said and done, even the uncrackable Simon had to admit that it was a fun use of their time.
'AMERICA'S GOT TALENT': DJ KHALED HELPS PICK THE TOP ACTS
The night reached a definitive high point when singer Johnny Manuel got his time in the spotlight. Manuel had a sad story, getting signed to a record label at a young age, opening for N*SYNC, only to be dropped. Unable to move past his glory days, he took the "AGT" stage in an effort to reclaim his singing career and prove that his talent wasn't generational. However, in a night of difficulty, his moment of glory came with an asterisk. While everyone was sold, Simon insisted that choosing a Stevie Wonder song was a misstep, as no one can perform better. He insisted that he sing a 30 second snippet of a different song, and the end result floored the guest judge. Seal stood out of his chair and pressed his golden buzzer, sending Manuel to the next round.
From there, it was relatively smooth sailing for impressive acts like the Houston based singer Kechi and the robotic dance stylings of Merrick Hanna. However, in the end, only seven could move on to the finals.
Joining the rest of the people who survived the judge cuts was, Manuel, In the Stairwell, The Pompeyo Family, DaNell Daymon and Greater Works, Merrick Hanna, Artyon and Paige and Kechi.