American Idol: Farewell, Karen Rodríguez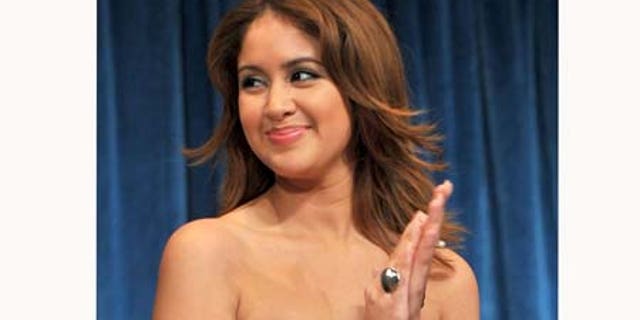 Karen Rodríguez's American Idol journey has come to an end.
The Peruvian-Dominican singer was voted off the popular singing competition. She took the stage one last time Thursday evening in an effort to save herself and stay in the competition.
Joining Rodríguez in the bottom three were Naima Adedapo and Haley Reinhart.
Rodríguez picked Mariah Carey's "Hero" as her swan song. But it wasn't enough to keep her around.
As American Idol host Ryan Seacrest wiped off her tears, Rodríguez described how it felt to sing the same song.
"I've been on this journey for such a long time now and I just had my last opportunity," Rodríguez said. "It just felt great to have that one chance.
"I know I can do so much better and I know you guys believe in me," she added. "I know it's about the votes, but I've done my best to represent for everybody, for my family for everybody."
Jennifer López seemed uneasy with the decision to send Rodríguez home as Randy Jackson announced the bad news.
"This is not unanimous, I must say," said a somber Jackson. "We talked this up quite a bit. The judges here, we are not going to use the safe tonight unfortunately."
After delivering the verdict, J.Lo looked away with sadness. She, along with the other judges, quickly got up and hugged Rodríguez as her American Idol journey played from beginning to end on the large monitors.
"I want you to find things you are comfortable with in your range, that show off your beautiful voice," J.Lo told Rodríguez.
Besides Rodríguez's performance, the Black Eyed Peas premiered their new song "Can't Get Enough." The audience was overly excited when Taboo emerged from back stage and rapped to the crowd.
You can reach Alexandra Gratereaux at: Alexandra.Gratereaux@foxnewslatino.com
Or via Twitter: @GalexLatino
Follow us on twitter.com/foxnewslatino
Like us at facebook.com/foxnewslatino