American Idol: Karen Rodríguez Survives Cut, and Releases iTunes Track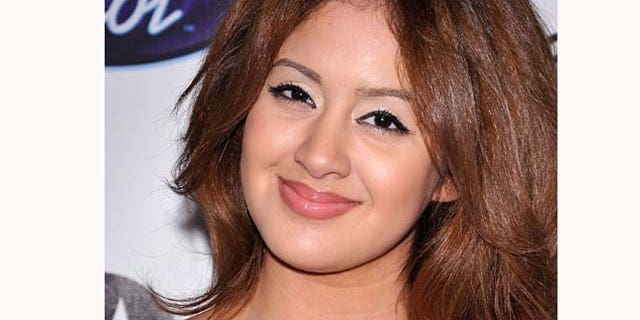 It was a rough night for American Idol hopeful Karen Rodríguez – but the lone Latina lived to sing another week.
The singer, who struggled during Wednesday night's performance of Selena Quintanilla's "I Could Fall in Love," was the first contestant to be placed in the bottom three.
"You are all safe..." said Radio and Talk show host Ryan Seacrest to Stefano Langone and Jacob Lusk. "All except Karen."
Ouch!
Aspiring country music singer Haley Reinhart and the ever confident Ashley Jones joined Rodríguez as America's least favorite players.
The night was filled with upbeat performances and guest appearances by "Diddy Dirty Money" a.k.a. Sean Combs, who performed his new single "I'm Coming Home."
American Idol Season 8 runner-up Adam Lambert, who sang "Aftermath," and the Season 10 contestants, paid tribute to the King of Pop Michael Jackson.
When the show resumed the business of eliminating a contestant, Rodríguez, who is Dominican and Peruvian, was told she was off the hook.
"Over 30 million votes have decided that Karen, you will be here one more week," announced Seacrest. "You are safe and may take a seat on the couch."
Ashton Jones, the Nashville native, then got the dreaded news. After being eliminated, she was asked to sing her "swan song."
Upon singing her last note, Jones broke down and cried. Rodríguez and Idol judge Jennifer López shed a few tears themselves.
"Not this time, baby," a hesitant López told Jones as the judges unanimously voted her off the competition. "I'm sorry."
Jones' fellow competitors rushed to her side and embraced her in her time of sadness.
Meanwhile, Rodríguez has released her version of Quintanilla's "I Could Fall in Love with You" on iTunes and has heavily promoted the track via her Twitter account.
You can reach Alexandra Gratereaux at: Alexandra.Gratereaux@foxnewslatino.com
Or via Twitter: @GalexLatino
Follow us on twitter.com/foxnewslatino
Like us at facebook.com/foxnewslatino