Allman Brothers Band's Dickey Betts to undergo brain surgery following 'freak accident'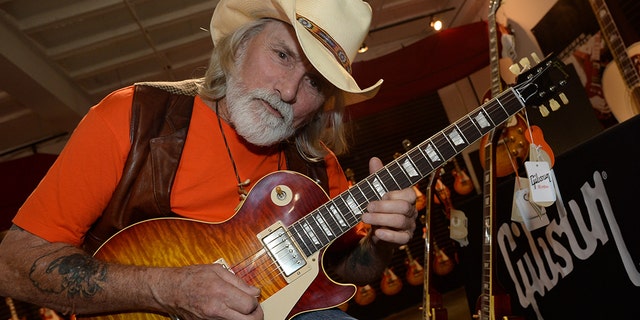 Dickey Betts, the founding Allman Brothers Band guitarist, has been hospitalized following a "freak accident" at his home in Little Sarasota Bay, Fla., on Monday.
According to a statement posted on social media and his website, the "Ramblin' Man" singer-songwriter was in his backyard playing with the family dog when he "slipped and cracked his head," which ultimately caused "bleeding from the brain."
The 74-year-old was sedated at an undisclosed local hospital and will undergo brain surgery to relieve the swelling on Friday, the statement noted.
Betts' longtime friend and manager, David Spero, added that the star is in "critical but stable condition."
"The family appreciates all of your thoughts and prayers during this very trying time," Betts' wife, Donna, said in the statement. "Dickey is a notorious fighter and he is displaying that now!"
In August, Betts had to cancel tour dates after suffering a "mild stroke" at his Sarasota home. On Sept. 14, Spero announced that Betts was "raring to go" as he was set to go back on tour later this year.
"It was just a few days ago that Dickey was telling me how excited he was to get back in front of the fans on Nov. 1," Spero said.
"It is very unfortunate, for all involved, that we need to cancel those shows. Please add Dickey into your thoughts and prayers."