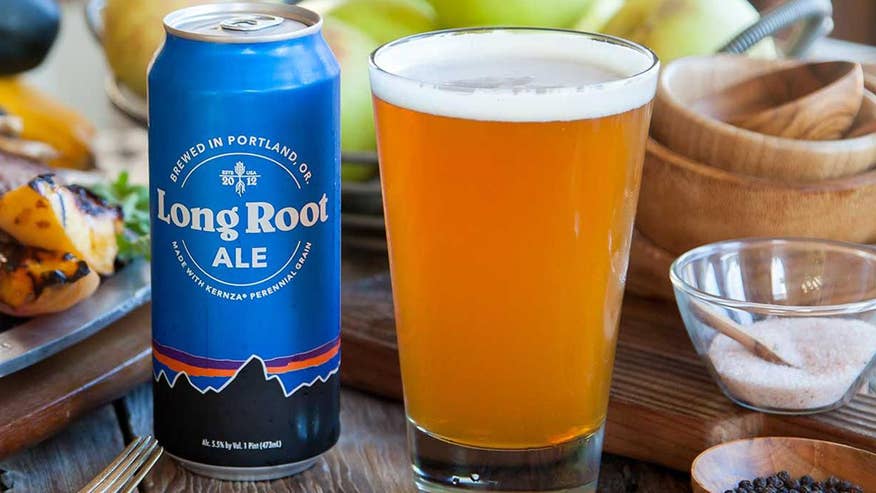 Save water. Drink beer.
A new brew from Patagonia Provisions and Hopworks Urban Brewery is putting a serious spin on a classic beer-lover's joke. Long Root Ale, the first beer from Patagonia's food division, is made with Kernza, a perennial grain designed to save water while also absorbing carbon and protecting the soil.
Most beers on the market are brewed with malted barley or wheat grown in an annual rotation (grains planted every spring, harvested in the fall and repeated the following year). But the makers of Long Root Ale claim that their drink is the first to incorporate the "super wheat" Kernza, which once planted, can remain in the ground for years. The plant is derived from an ancient form of intermediate wheatgrass which allows it to grow heartily without pesticides. According to Hopworks, it also uses less water than conventional wheat, helps to reduce erosion since its roots grow deeper into the ground and "removes more carbon from the atmosphere than annual grains."
Long Root is also brewed with organic two-row barley, organic yeast, organic Chinook, Mosaic, and Crystal hops.
But is this just another promotional gimmick or does sourcing actually make a difference?
According to Birgit Cameron, the senior director of Patagonia Provisions, one of the major efforts toward bringing the ale to market was getting the grain recognized by the U.S. Food and Drug Administration (FDA) as "Generally Recognized As Safe" (GRAS). That, Cameron said, cost the company about $50,000.
"We're using beer as a force for good," said Christian Ettinger, the founder and brew master for Hopworks. "Beer is really responsible for civilization… (so) it's such a great landing place for us to focus on sustainability," Ettinger, who launched Hopworks with his wife, explained to Civil Eats.
Patagonia is now looking to partner with more breweries throughout the U.S. "If the bigger players come out with a beer that incorporated Kernza—and if even a small percentage (of farmers) turned to perennial agriculture—that would be a huge win," Cameron said.
For now, Hopworks has a production goal of 6,000 cases (of 24 cans) for the first 12 months. Long Root Ale will be available in four-packs at Whole Foods locations throughout California, Washington and Oregon. It will also be on draft at some locations.
But does sustainable beer even taste good?
The beer is being touted as a refreshing pale ale with citrusy, grapefruit hop flavors and a subtle malty finish.