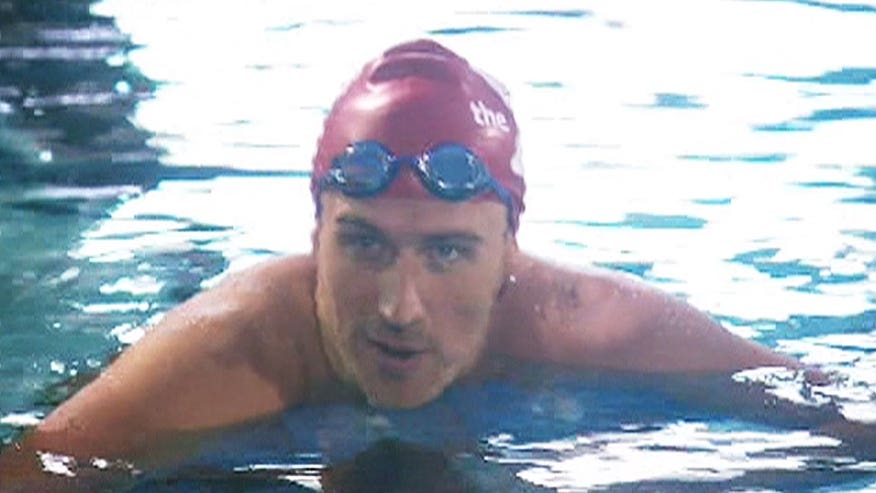 Ryan Lochte may have plenty of reasons to say "jeah" these days.
The 32-year-old competitive swimmer is getting a second chance at another victory lap by signing on with PowerBar and TYR Sport as his new sponsors while he eagerly trains for the 2020 Olympics in Tokyo. He recently moved to sunny California, is engaged to his 25-year-old Playboy model girlfriend, Kayla Rae Reid, and they're expecting a baby boy later this year. Lochte is enjoying life in 2017 so far like a doggy paddle.
RYAN LOCHTE, FIANCEE ANNOUNCE PREGNANCY
But things weren't always so blissful.
At the 2016 Rio Summer Olympic Games, the 12-time medalist received negative media attention involving a highly-publicized gas station incident, resulting in public backlash. He lost endorsements and was suspended from swimming for 10 months. But after the major setback, Lochte wasn't ready to call it quits.
"Right now, the thing that's motivating me the most is swimming well, doing really well for my family," Lochte told Fox News. "There's so much more I want to accomplish within the sport of swimming. After my performance in Rio, I was embarrassed. Even though I got a gold medal, I was embarrassed. I was embarrassed because I know that's not what I'm capable of doing.
RYAN LOCHTE EXPLAINS WHY HE HID PLAYBOY MODEL GIRLFRIEND
"I'm capable of doing much greater things. It just didn't happen. So I can't end my swimming on that note. That's why I'm going to stick to 2020. Then we found out Kayla was pregnant. [Now] I'm doing it for our son. That's where my motivation is right now."
Lochte also credits Reid for sticking by his side when the fate of his career became murky.
"I realized she was the one…pretty much after everything that happened with Rio," explained Lochte. "Not only was I getting public backlash from the public, on social media, but she was getting attacked too. She lost a lot of jobs because of it. And she still stuck with me. Anyone that has that much pressure, stress, hatred thrown towards you, you're just going to quit. And she stuck with me because… she loves me. And she saw something in me that no one else did. She stuck with me throughout the whole thing."
MAUREEN MCCORMICK AND RYAN LOCHTE JOIN 'DANCING WITH THE STARS'
"There were times when I've hit the lowest low," said Lochte. "She was right there behind me and she was the one that…brought light into me. There were certain times when I didn't want to wake up. I didn't care much for living and she was the one who gave me life, gave me hope."
Soon after their engagement in October 2016, the couple announced in December that they were expecting an early Christmas gift: a baby. Lochte, who insisted he always wanted a boy first and then a girl so she can have a "big brother," even recalled the moment when he called his father to announce that "the Lochte name lives on." Without hesitation, Lochte proudly stated that it's his child who's now giving him the motivation to start anew this year.
"For the past couple years, I would say my mind and heart have not really been in swimming," he admitted. "I was just doing it because the Olympics were happening and I just had to. But I really didn't have a drive. I lost that within the past couple years. I still didn't find it until recently, until I found out I was having a boy."
"My son is going to be there during the Olympics. He's going to watch his dad do something that he's really passionate about and loves. I think that's what really got me to get that drive back again, that focus back in the water. I want to do it for him. I want to show him that if you set your mind on things, your dreams can come true. And to never give up on it. I'm doing it for this guy."
RYAN LOCHTE TALKS PROPOSAL TO PLAYBOY MODEL
In between planning a wedding, his son's birth and training for the next four years to successfully compete in the Olympics, Lochte has plenty to tackle on this year. However, he's not worried about doing it all. He wouldn't have it any other way.
"There have been times when me and Kayla have talked about it," said Lochte on balancing fatherhood with his return to swimming. "Like will this affect my training? I want to be there for my son every step of the way. Like, every second. But we made a plan where when I train, I train in the morning, she's at home watching him. And when I come back, it's just me and the boy, me and my family. She knows this is my goal. She's like, 'If I have to, I'll go to practice with you and the boy.'
"And I guess since I'll want to get home sooner, I'll just swim faster and faster during practice," he chuckled.