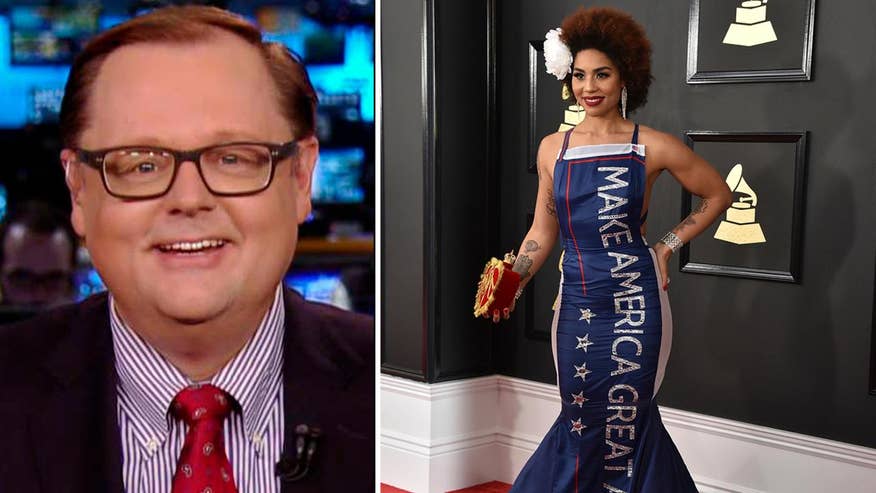 Joy Villa's music sales skyrocketed after the singer wore a pro-Trump dress at Sunday night's 59th annual Grammy Awards. When she arrived at the Grammys, Villa flung off a white frock to reveal a gown of patriotic red, white and blue that urged "Make America Great Again" and had "Trump" in sparkly letters on the back hem.
The 25-year-old's EP "I Make the Static" jumped to the top of Amazon's top digital paid albums and reached number seven on the iTunes top album chart after her red carpet appearance.
"I am 100 percent a Trump supporter. I believe in his message, I believe he will run this country like he runs his life, successfully," Villa told Fox News. "I stand as a proud American and I stand for a unified America that is tolerant of each other no matter who we voted for. I stand behind our President because that's the American thing to do. I believe in love, above all."
The singer also explained her controversial look on Instagram.
"Go big, or go home. You can either stand for what you believe or fall for what you don't. Above all make a choice for tolerance and love. Agree to disagree," she wrote after her red carpet appearance.
The dress' designer, Andre Soriano, said on Instagram the gown is a "tribute [to] OUR President Of The United States Of America" adding the hashtag #MAGA.
Villa's look quickly prompted support from fans but she was also accused of trying to get attention.
@Joy_Villa imagine choosing to end your career before anyone even knew who you were pic.twitter.com/a1kQxIu7Fp

— priscilla (@Sillaxo) February 12, 2017
@Joy_Villa die

— Le Kévin ☠️ (@kevinrizzi) February 12, 2017
@Joy_Villa You look beautiful and the dress is amazing!! Thank you for your confidence and supporting our POTUS!!😍🇺🇸

— Celeste Powell (@CelestePowell16) February 13, 2017
@Joy_Villa I think you did this for attention. Sorry. 💁🏻

— .elisa williams. (@ahleeeeesuh) February 13, 2017
+
@Bougied0ll @Joy_Villa Guess that's what happens when you support the devil!

— Mariah ft YG out NOW (@fadedcrystal) February 12, 2017
@Joy_Villa Your dress sucks...

— Jahaira Navarro (@jahaiku_) February 13, 2017
The Grammys are known for some seriously wacky, sexy and attention-grabbing red carpet looks. Here are the looks that caught our eye this year.
Fox News' Blanche Johnson and the Associated Press contributed to this report.