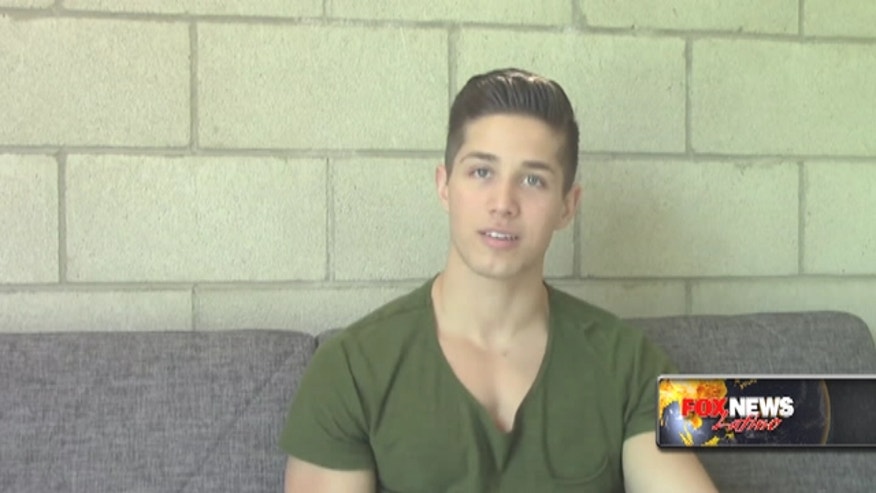 Los Angeles – Brandon Larracuente was 6 years old when his dad took him to see his first WWE event at Madison Square Garden in New York City to watch his wrestling idol, Dwayne "The Rock" Johnson.
"Ever since that day, I wanted to be like him," he told Fox News Latino.
Larracuente never imagined that years later he would share screen time with his hero — they will appear together in one of next year's most anticipated movies, "Baywatch."
"It was a dream come true for me," he said. "I've followed him since the first time he ever stepped in the ring."
While filming the feature based on the famous TV show, the two bonded about another passion they share: physical fitness.
"We spoke of and set about working out, he cracked jokes," Larracuente recalled. "It was a great time, a great experience."
Although Larracuente's commitment to the gym is apparent, he's also been committed to flexing his acting muscles ever since he was a little boy. He first appeared in commercials and in local plays in his hometown of Clermont, Florida, but it wasn't until graduating high school that he decided to focus on full-time acting.
"If you have passion and a dream, you have to chase it," he said.
Some of his earlier credits include appearances on TV series like A&E's "The Glades" and Nickelodeon's "Every Witch Way." He also starred in films like "Last Vegas" and the upcoming "Max Steel."
Now, at 21 years old, he can be seen on Netflix' original drama series "Bloodline," which focuses on the wealthy Rayburn family.
Larracuente said that the first day on the "Bloodline" set, his dad Israel Larracuente, a retired New York homicide detective, was a bit star-struck, as the cast includes heavy hitters like Sissy Spacek and John Leguizamo.
"We get there and my dad is like that's Sissy Spacek, that's Kyle Chandler!" he recalled.
But Larracuente's father had something to bring to the table too. He's become an unofficial consultant on the show giving Chandler, who plays a detective, tips on how to get the character right.
"He actually picks my dad's brain because he was a detective," the younger Larracuente told FNL. "[He] asks him advice regarding what he should do and not do in scenes. It's really cool to bring my dad to the set with me and involve him in something that means so much to me," he added.
Although Larracuente is extremely proud of his Puerto Rican heritage – he used to watch telenovelas with his grandmother and is fluent in Spanish – in "Bloodline" Larracuente plays a non-Latino character. It's something that he finds important, he said, because actors should not be typecast.
"I think it opens more doors for me and other Latinos in the industry," he said. "More Latinos will have more opportunities now that [we] are branching out into other things in the acting industry."
Larracuente's career is on a steady rise, but he also hopes to grow a fitness empire, and even start at a YouTube channel that focuses on health and fitness. He wants to juggle his two big passions, just like "The Rock" has.
"That really inspired me. If he can do it, go from a wrestler to actor, and he also does fitness, then why can't I?" he said.
"Baywatch" will hit theaters in 2017. The first two seasons of "Bloodline" can be found on Netflix.
Naibe Reynoso is a freelance reporter from Los Angeles, California. Follow her @naibereynoso