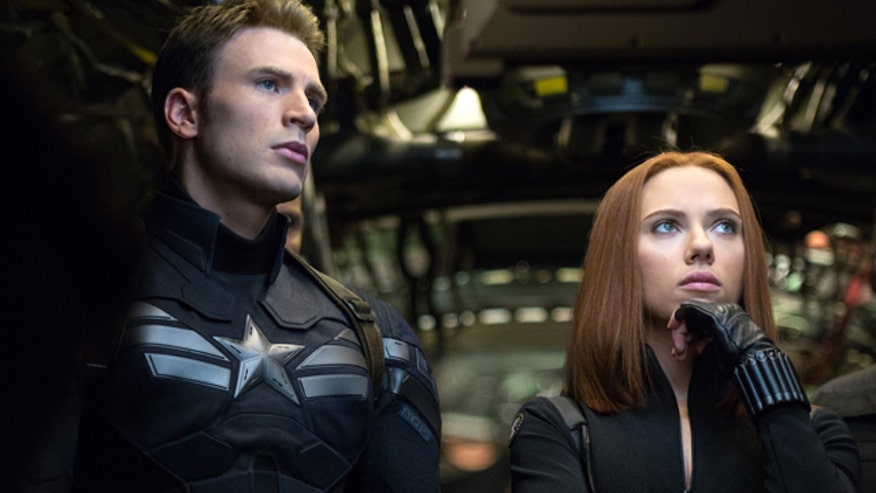 The patriotism from the "Greatest Generation" has withered into a gritty atmosphere of paranoia and deception in the rip-roaring "Captain America: The Winter Soldier." If the first "Cap" was a throwback to classic World War II films, "Winter Soldier" is a nod to the great espionage films of the 1970s, movies like "3 Days of the Condor" and "The Parallax View," even going so far to bridge the two by casting "Condor" star Robert Redford as shady politician Alexander Pierce.
Like other recent Marvel films, "Winter Solider" takes place in a post-"Avengers" world, and while briefly mentioning the events from "The Avengers," this is a direct sequel to the first "Captain America." When a super-powered solider – The Winter Soldier -- infiltrates S.H.I.E.L.D headquarters in Washington D.C. and puts hits on some top ranking officials, Nick Fury (Samuel L. Jackson) goes on the run and seeks help from Steve Rogers (Chris Evans). When Rogers' closest allies set him up, he enters a labyrinth of paranoia and deceit, discovering that ghosts from his long-ago past have come back to haunt him and will threaten the lives of the entire country.
While elements from espionage thrillers are inserted throughout, this does adhere to the typical Marvel formula of the super villain trying to destroy the world. "Winter Solider" starts with more intimate plot but then goes "Avengers" big and blustery by film's end, losing that unique intimacy that separates this from the bunch.
Chris Evans again does a fine job as Steve Rogers but really plays up the character's stoicism here. Rogers is certainly the anti-Tony Stark and Evans plays every scene with the same subdued expression and tone which, in the end, can seem a little bland. Captain America could use some of that Tony Stark energy and gravitas.
Samuel L. Jackson gets his biggest Nick Fury role yet. He isn't relegated to a post-credit sequence or some quick exposition moment. Jackson has quite a few juicy and surprising scenes here and it's refreshing to finally see him truly flex his Nick Fury muscles.
But let's ignore Captain America and Nick Fury for a moment. This is just as much Black Widow's film as it is Steve Rogers', and Scarlett Johansson is sublime as the slick S.H.I.EL.D operative. Given a more substantial role here than in "The Avengers," Johansson shows that she is quickly becoming the smartest, toughest female action star, delivering one-liners and round-houses like nobody's business. This is really unlike anything we have seen yet from Scarlett Johansson and she is near-perfect.
Forget "Captain America 3" or "The Avengers 2," it's time ScarJo gets her very own Marvel franchise.
Anthony Mackie joins the race to save the world from an endless supply of villains. A solid character actor and a reliable comedic sidekick, Mackie is Sam Wilson, or Falcon, an ace pilot who soars through the action donning rocket-powered falcon wings. Mackie has steadily climbed the ranks over the years and he is a perfect fit in the Marvel universe, which should hopefully open him up to more leading parts in the future. He deserves them.
If there was any actor to ever ground a Marvel film in reality it is Robert Redford. He is the one actor that just doesn't come to mind when thinking about fantasy or superhero films and the 'Sundance Kid' doesn't play Alexander Pierce as if he is in a superhero film, making the contrast that more fascinating. It works, and it works well. The scenes with Redford are right out of the gritty political thrillers he helped make famous in the 70s and it is perfect casting for him.
"Winter Solider" makes nice use of practical effects, focusing on old-school car chases and pyrotechnics, putting a "real-world" spin on the genre, though it wouldn't be a true Marvel film without some apocalyptic destruction during the finale where the digital effects are tantamount.
So just a word of caution if you have been living under a rock for the past few years or are seeing "Captain America" by force: You need to have done your Marvel homework before seeing this film. With each Marvel release, the studio spends less time explaining the world they've created and getting quicker to the punch. So if you're new, prepare to be lost.
Far from being the best or worst Marvel film, "Winter Solider" is indeed great fun. The script attempts to create an intricate and tangled web, a la the "Bourne" films, but only goes so far in achieving that. It rests in a comfortable middle ground, neither creating something wholly new and original or falling into pastiche. This is a fun ride, for sure, but "Winter Solider" is missing the heart and adventure of the original.
Marvel Studios/Walt Disney Pictures. MPAA Rating: PG-13. Running time: 2 hours and 16 minutes.