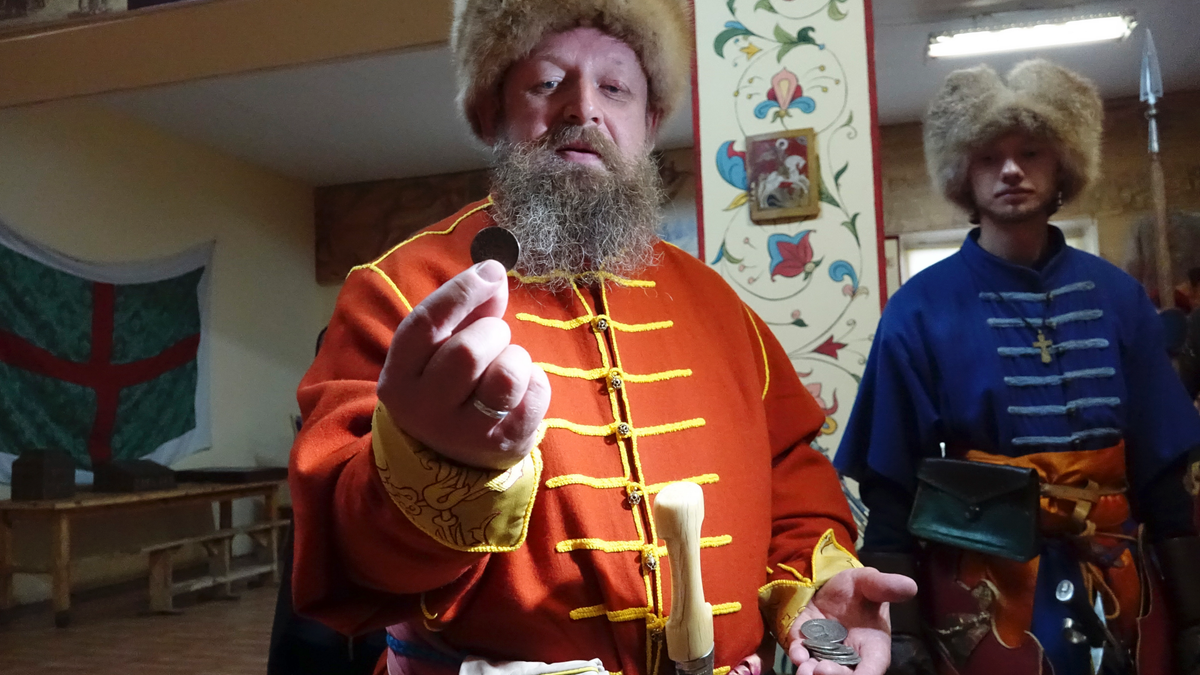 SARANSK, Russia – The World Cup gave unprecedented global exposure to the relatively obscure Russian republic of Mordovia, the name of which could have passed for a mythical setting in "Game of Thrones" before it became known as a real-life host for soccer's biggest event.
Fittingly, the regional capital of Saransk is somewhat of a hub for young adults who eschew mainstream sports like soccer in favor of a competition that features contestants wearing armor and wielding swords reminiscent of medieval times.
It's called historical fencing , a pursuit in which an estimated 10,000 Russians participate, said Igor Loshkariov, an organizer for such events in Saransk.
"Russia might not be great at football, but in historical fencing, we can conquer the world," Loshkariov said, wearing a traditional Russian hat made of bear fur as he showed guests educational exhibits about the time period inspiring the battle gear used for the sport.
Historical fencing exists in stark contrast to its more refined Olympic cousin. Forget about that plain white, form-fitting gear that offers maximum agility and contains sensors allowing points to be registered electronically. Historical fencing makes a genuine attempt at historical accuracy, with all the clunky, cumbersome plates of metal or weighty weaves of chainmail designed to protect one from the strikes of a scimitar.
Since the early 2000s, Saransk has been the base for one of Russia's clubs for historical fencing, a sport that includes the study, reenactment, replication and performance of European swordplay from centuries ago.
Practitioners spend hours in costumes that evoke military traditions, learning Russian military history and fencing with sharp swords, including foils, epees and sabres.
Spears, arrows and muskets are also used in reenactments, which can be competitive and thus don't guarantee a specific winning or losing side in advance as a more precise reenactment might.
Almost annually, Russia tops the medal standings of the "Battle of Nations ," historical fencing's World Cup. Earlier this year, Russians won 14 gold, three silver and five bronze medals, according to Loshkariov.
Later, Russia confirmed its status as world champion in what is known as the HMB tournament.
The long-bearded Loshkariov, who is also a professor of medicine, dresses as a "Voievode," a kind of Russian warlord. One of his daughters also takes part in historical fencing, but is still learning how to use swords.
Women are allowed in the sport, but Loshkariov concedes that few have joined such clubs.
All practitioners choose the type of soldiers — or even villagers — they want to be when they take part in certain reenactments and classes. They pick their own historical battle regalia, most of which must be hand-made.
"People in this country — and other countries — should know their history in order to understand their place in the world," said Artyom Komarov, a 24-year-old post-graduate archaeology student who enjoys historical fencing. "This is not just a sport or a physical activity. It requires knowledge of the past and helps one experience first-hand what certain aspects of life were like back then."
___
AP Sports Writer Brett Martel contributed to this report.
___
More AP World Cup coverage: https://apnews.com/tag/WorldCup