Woman saved by washing machine in house explosion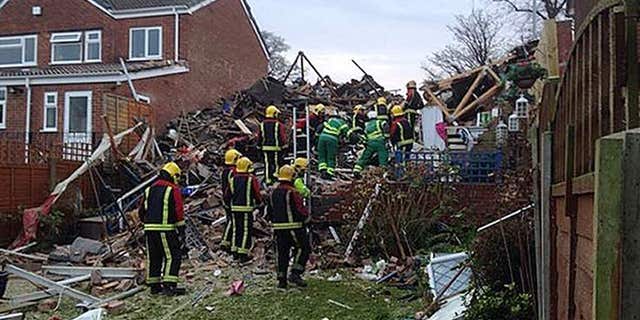 A woman rescued after a suspected gas blast destroyed her home was saved by her washing machine, according to firefighters.
Wendy Ayoub is recovering in hospital after the explosion reduced her house in Wolverhampton into a pile of rubble.
The 73-year-old was found by rescue workers wedged in a void next to her washing machine with the weight of the roof and upper floor above her.
In a statement released through New Cross Hospital, Mrs Ayoub thanked her rescuers.
"I am comfortable and recovering well. I would like to express my sincere thanks to the emergency services and hospital staff who have helped me."
Emergency services arrived at a scene of devastation in Penn Road shortly after 8am on Monday to find the two-story detached home flattened.
Fire crews and specially trained medics worked by hand for 90 minutes to free the woman.
David Baker, West Midlands Fire Service incident commander, said: "They were able to locate the elderly lady in the rear ground-floor kitchen with the remainder of the roof and first floor on top of her.
"She was wedged in a void next to the washing machine."
He added: "Due to the presence of gas - we believe the explosion was as a result of gas - there was still an explosion risk.
"We couldn't use any cutting tools, so we had to manually handle all the debris away from her."
A West Midlands Ambulance Service spokesman said: "She has suffered cuts and bruises and a broken ankle, but when you consider the level of damage to the property, she has been extraordinarily lucky not to have been more seriously injured."
Ms Ayoub was taken to hospital and three others, including a taxi driver who was going past the house when it exploded, were treated for shock.