Woman disappears after she recorded herself throwing ink on poster of Chinese president, report says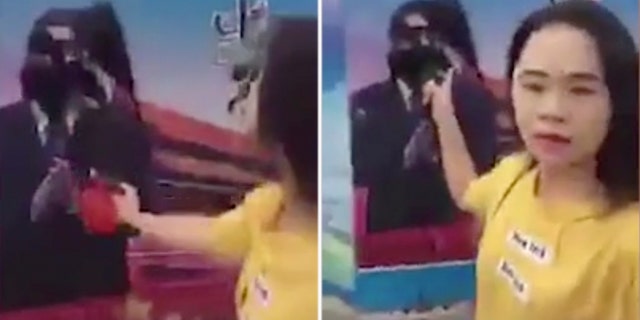 NEWYou can now listen to Fox News articles!
A Chinese woman has reportedly vanished shortly after livestreaming herself throwing ink on a poster of President Xi Jinping last week.
Dong Yaoqiong, 29, of ZhuZhou, Hunan, recorded herself throwing ink on the image on July 4, BuzzFeed News reported. Her video quickly went viral on Twitter and was shared in WeChat, a Chinese message app.
Dong denounced the president's "authoritarian dictatorship" before throwing the ink on the poster.
"I oppose Xi Jinping and his authoritarian dictatorship," Dong was heard saying.
8 ENDANGERED BLACK RHINOS FOUND DEAD IN KENYA, OFFICIALS SAY IT'S 'A COMPLETE DISASTER'
She said she hated the president and asked internal organizations to "intervene on the Chinese Communist Party's mind control." She dared Xi to "come and catch" her.
"Friends, I have splashed ink on his photo," she was heard saying. "Let's see how he's gonna deal with me."
Chinese activist Hua Yong tweeted out Dong's video and asked if she was safe.
"Emergency signal boost: I just saw this video in a WeChat group chat, and I am really worried about this woman and her safety. This livestream has already been shared domestically in China. I want to know her name. Can our friends in Shanghai please inquire after her current status? Please everyone pay attention to this, don't let her voice disappear. Defend the constitution. Exercising freedom of speech is not a crime," Hua wrote.
Hua told BuzzFeed News he discovered Dong's Twitter and found she was home. However, a few hours later Dong tweeted a group of uniformed men had shown up outside of her home. She took a picture of the men from the door's peephole.
MELANIA TRUMP DUTIFULLY TRIES HER HAND AT LAWN BOWLS
"There's a group of people in uniforms outside my door. After I'm dressed, I'll go out. I'm innocent. The ones who are guilty are the people and group that have hurt me," she wrote.
Hua began a livestream on YouTube to talk about Dong and to bring awareness to the incident. He said Dong's tweets were deleted not too long after and her Twitter account was deactivated. Hua also said he found Dong's phone number but it was not working. Her whereabouts were unknown.
Following the disappearance, a number of people recorded themselves throwing ink on an image of Xi's face as a show of solidarity and to raise awareness.
"This is to show solidarity with the girl who threw ink, Dong Yaoqiong. Put some color on this face," one person tweeted.