Woman accused of taking baby from womb lost 19-month old son in 2002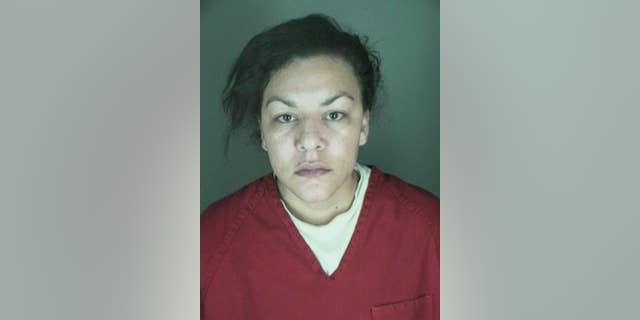 NEWYou can now listen to Fox News articles!
The Colorado woman accused of cutting open the belly of a pregnant woman and removing her unborn baby girl lost her own son in 2002 and was desperately trying to prove to her family that she was pregnant.
Thirteen years ago, Dynel Lane and her former husband lost a 19-month-old boy in a drowning accident in southern Colorado's Pueblo County. A July 2002 obituary for Lane's son, Michael Alexander Cruz, in the Pueblo Chieftan said the boy had just learned to sing his first song, "Twinkle, Twinkle Little Star."
Lane's then-husband wasn't home at the time of the drowning, the newspaper reported. She and their two daughters, then 5 and 3, searched for the boy until they found him in the fish pond.
He had been playing a game with his sisters while their mother was busy in another part of the house, the newspaper said.
Court documents say that Lane also had told her own family that she was pregnant and had asked her current husband to accompany her to a pre-natal appointment on Wednesday.
However, when he came home to meet her, the documents say she reported having a miscarriage and showed him a baby gasping for breath in a bathtub.
The baby did not survive. The child's mother is expected to recover.
Lane was arrested on suspicion of attempted first-degree murder and other charges.
A doctor told investigators the incision in the mother's belly was well performed and would have required some research.
The crime has also revived the highly-charged debate over when a fetus can legally be considered a human being.
In the past two years, Colorado twice rejected efforts to make the death of a fetus a homicide under state law. The Democratic-led legislature voted down a bill to do that in 2013 and last year 65 percent of voters rejected a ballot measure that would have granted legal rights to unborn fetuses, the state's third rejection of a so-called "personhood measure."
That leaves the state as one of only 12 without a law allowing homicide charges in the violent deaths of fetuses and the fate of Lane up in the air.
Stan Garnett, the district attorney of liberal Boulder County, said during a news conference Thursday that Colorado law makes it challenging to file homicide charges. "Under Colorado law, essentially no murder charges can be brought if the child did not live outside of the mother," Garnett said.
The legal complexity seems unnecessary to some. "It's literally absurd," said Keith Mason, the president of Personhood USA, the anti-abortion rights group that spearheaded the push for Colorado's fetal homicide laws.
The abortion debate has hung over the increasing number of states that have made the killing of a fetus a homicide. Those laws have been promoted by opponents of abortion rights and have been adopted by 38 states and the federal government, to the consternation of many abortion-rights supporters.
Douglas Johnson, legislative director of the National Right to Life Committee, said none of the laws can be used against a woman who decides to lawfully terminate her pregnancy. "Some of them have been in existence for 30 years, and they haven't had any impact on legal abortions," he said.
After Democrats rejected a fetal-homicide bill in 2013, state Rep. Mike Foote authored a measure allowing extra felony charges to be filed against anyone who commits a crime that causes the death of a fetus. Foote said that the involvement of personhood activists in the push for a fetal homicide law makes it impossible for Colorado to implement one without running the risk of lengthy legal fights over abortion.
"The issue we were wrestling with is how you can hold offenders accountable and have some semblance of justice and not interfere with a woman's reproductive rights," said Foote, a Democrat who is also a prosecutor.
Based on reporting by the Associated Press.