Witnesses: Language barrier led to SF police shooting of knife-wielding homeless man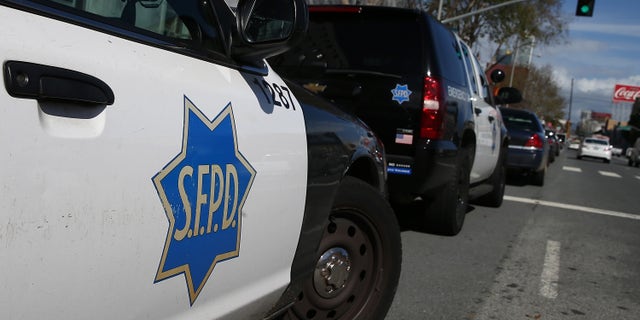 NEWYou can now listen to Fox News articles!
Police officers in San Francisco have come under fire for shooting a Hispanic homeless man who they claim was lunging at them with a "large kitchen knife" and refused their orders to surrender.
Witnesses, however, claim that the Spanish-speaking man did not understand what the officers were saying because of the language barrier. They also dispute police version of events.
"They need to realize that some people don't speak English," a witness, Stephanie Grant, told the Guardian, who added that the shooting happened shortly after police arrived at a Mission District tent city. "They didn't wait for anything. It all happened so fast."
San Francisco Police Chief Greg Suhr said seven bullets casings were found and the kitchen knife recovered. The blade was 10 inches to 12 inches long, and witnesses described it as a chef's knife, he said.
It was the third fatal shooting of a minority suspect without a gun over the last two years.
The shooting Thursday morning in the city's Mission District neighborhood comes amid the department's attempt to reform its "use-of-force" policies and repair an image battered by two separate incidents of officers exchanging racist and homophobic text messages.
Police Chief Suhr said two officers shot the unidentified Latino man after he refused demands to drop a knife and after the suspect was shot four times with nonlethal beanbags.
The incident was the second fatal shooting of a knife-wielding suspect in San Francisco since December. The previous shooting of knife-wielding black man along with the fatal shooting of a Latino man carrying a stun gun In March 2014 and the recent texting scandals has led to several protests, calls for the chief's firing and wrongful death lawsuits.
The U.S. Department of Justice recently agreed to requests from Suhr and Mayor Ed Lee to review the department's procedures and policies. Suhr has called in outside law enforcement experts to help the department develop less lethal responses to suspects not carrying guns.
The latest incident began Thursday morning when city homeless outreach officials checking on residents living in tents called police to report a man carrying a knife, Suhr said. Suhr didn't identify the man.
Grant and another witness, John Visor, said they lived in a tent in the same encampment as the suspect and say he spoke only Spanish and that the officers barked their commands to drop the knife in English.
Visor, 33, and Grant, 31, say the man was confused and walking in a circle when the officers hit him with the beanbags and then opened fire with guns. They say the man had stuffed the knife into his waistband before he was shot.
"Everybody carries something for protection here," Visor said. "He didn't have the knife in his hand when he was shot."
Visor and Grant knew the man only as Jose. They said Jose liked to collect bottles and cans for recycling and enjoyed kicking a soccer ball, sometimes late into the night and to the occasional annoyance of pedestrians.
"He never hurt anybody," Visor said. "He just liked to pick up cans."
The mayor said in a statement that "we are all striving to make sure officer involved shootings are rare and only occur as a last resort." Lee said he has requested an independent investigation from the Office of Citizen complaints in addition to the customary investigations by the Police Department and district attorney.
The last previous fatal shooting that involved San Francisco police occurred on Dec. 2, when five officers fatally shot Mario Woods 20 times, including six times in the back, in an incident caught on video.
Woods' family has filed a wrongful death lawsuit.
On Wednesday, the city's police commission agreed to reconsider its ban on arming San Francisco police officers with stun guns because of the Woods incident and the 2014 police shooting death of Alex Nieto, a college student carrying a stun gun that officers mistook for a handgun. Nieto carried a stun gun for his job as a security guard.
A federal grand jury earlier this year ruled the officers acted appropriately and refused to award Nieto's family any damages after a trial in San Francisco.
San Francisco is one of only two of the nation's largest cities in the country that do not equip officers with stun guns.
Based on reporting by The Associated Press.
Like us on Facebook
Follow us on Twitter & Instagram