Whatmore confident of Pakistan's resurgence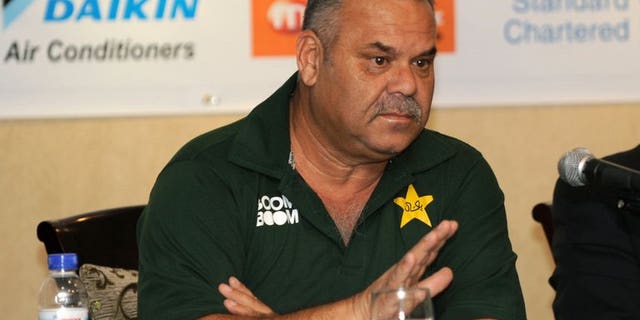 LAHORE, Pakistan (AFP) – Pakistan cricket coach Dav Whatmore admitted Monday he was "embarrassed" by his side's Test defeat to minnows Zimbabwe but insisted they could bounce back against South Africa.
Pakistan lost the second Test against Zimbabwe by 24 runs earlier this month to leave the two-match series tied at 1-1, a result which saw them drop from fourth to sixth in the Test rankings.
The defeat revived calls to replace captain Misbah-ul Haq and Whatmore before the clash against number one Test team South Africa in the United Arab Emirates next month.
The Proteas will be full of confidence going into the series after their pace attack helped them thrash Pakistan 3-0 in South Africa at the start of the year.
Since Whatmore took over in March last year, Pakistan have won only one Test and lost five.
The 59-year-old told AFP Zimbabwe had been tougher than they expected, but he was confident his men would bounce back in the two-Test series starting in Abu Dhabi on October 14.
"Zimbabwe gave us better preparation and they were bit stronger than a lot of us thought about them," he said.
"All three adjectives -- upsetting, disappointed and embarrassing -- can be used to describe the way I feel after the defeat against Zimbabwe."
Whatmore refused to blame any individuals but said the side had let itself down with both bat and ball.
He said the different opposition and different conditions in the UAE -- typically low, slow pitches similar to those found on the subcontinent -- would demand a different line-up.
However Whatmore backed Misbah as captain.
"Misbah has some wonderful leadership qualities and has been successful since he took over," said Whatmore.
Misbah, derided by some team supporters as boring and conservative, was appointed captain in 2010 and won nine Tests out of 15 before Whatmore took over.
"My observations are that by nature he is a methodical person who thinks deeply before making decisions. This is reflected in his batting as well," said Whatmore.
"He takes a little time at the beginning but at the end his contribution is effective. His consistency in contributions during 2013 has been second to none. It's easy for people to be critical."
Whatmore, who coached Sri Lanka to a famous World Cup victory in 1996, was tight-lipped about his own future.
His contract with Pakistan is due to expire in March and he said any renewal would depend on "mutual willingness" on both sides.