War not peace followed VJ Day for Myanmar's ethnic minorities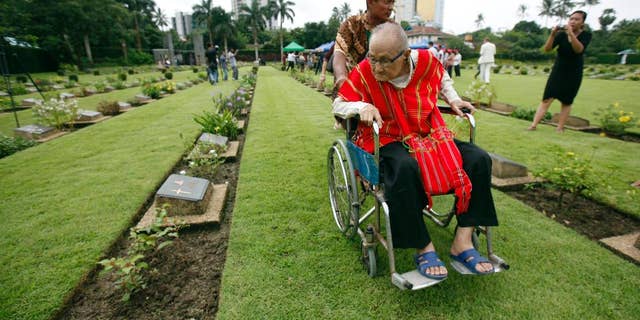 YANGON, Myanmar – A group of World War II veterans from Myanmar's ethnic Karen minority, most in their 90s, prayed and sang a poignant hymn Saturday at the graveside of a legendary British officer who sacrificed his life for an ethnic group for whom the war's end 70 years ago led to the world's longest-running insurgency.
The gathering of the old warriors at the grave of Maj. Hugh Paul Seagrim — who the Karen call "Grandfather Longlegs" — was part of a ceremony to mark Victory over Japan Day, which ended the global conflict and savage combat that devastated Burma, as the country was then known.
"He loved the Karen people. He gave his life (for us)," 92-year-old Saw Berny said of Seagrim, who led a highly effective Karen guerrilla force deep behind Japanese lines.
When Japanese began to torture and kill Karen civilians and threatened more retribution if Seagrim did not surrender, he gave himself up to be executed with seven of his Karen comrades.
While fighting with the Karen, many of them Christians, the towering British officer — regarded as a maverick but outstanding guerrilla chief — wore their native dress, shared their food and helped till their fields.
Meeting at Yangon's Commonwealth War Cemetery on Saturday were also Chin, Kachin and members of other ethnic minorities who had fought bravely alongside Allied forces against the Japanese. After Burma's independence from Britain in 1948, hoping for greater autonomy from the central government, a welter of ethnic insurgent groups rose up in rebellion.
Sporadic fighting continues in some parts of the country, but Myanmar's military-backed government is attempting to forge a comprehensive peace agreement with the Kachin, Karen and others before general elections later this year.
The Karen insurgency has seen killings, torture and rape of civilians by Myanmar's military. Aid agencies say some 400,000 Karen have been driven from their homes while more than 120,000 refugees, most of them Karen, are sheltered in camps along the Thai-Myanmar border. About 60,000 now live in the United States.
Some believe that if Seagrim, who vowed to return to Myanmar after the war, had survived he would have helped the cause of the Karen, who the British government had promised to support after the war but then abandoned after independence was granted.
"He would have been a great force for good, politically and otherwise," Sally McLean, a British humanitarian aid worker, said at Seagrim's grave.
McLean founded Help 4 Forgotten Allies, which provides 120 British pounds ($187) each year to more than 250 Karen veterans or their widows. The Karen soldiers were not recognized as being officially part of the British army and therefore never received pensions or other benefits despite what historians say was their great contribution to the victory.
"He was clearly an inspiration to the Karen. Seagrim's influence runs on till the present day," said Duncan Gilmour, whose grandfather, Lt. Col. Edgar Peacock, played a key role in the guerrilla campaign after Seagrim's death when the Karen were unleashed against the retreating Japanese, killing thousands.
The Burma campaign, waged away from the world's spotlight by what have been called "forgotten armies," was one of the most brutal of the war for both the Allies and the Japanese, who invaded the country in 1942. Thousands succumbed in jungles and mountains not only to sometimes hand-to-hand combat, but also to cholera, dysentery, scrub typhus and other rampant tropical diseases.
British diplomats, military attaches of former Allied powers, senior Burmese officers and others also attended Saturday's ceremony, held near a simple white cross rising above the gravestones of some 1,300 soldiers.
The Karen fulfilled Seagrim's last request before his execution: that his Karen comrades sing the hymn "Oh Christ the Solid Rock I Stand" for him.
The elderly war veterans and others rendered it effortlessly in part-harmony and their own language.
Saw Berny sat in a wheelchair near the simple gravestones of Seagrim and his executed companions, explaining that what he had on — black pants, white shirt, red Karen blouse and a shoulder bag with a Bible inside — was the same that "Grandfather Longlegs" wore when he surrendered to the Japanese seven decades ago.